It is so very easy to become discouraged as we walk through life. One of the easiest ways to do this is when we are doing nothing. When we have no real goals in life we lack direction and this is when we get lost and do not know our purpose in life. Here are some Christian quotes that I pray encourage you to do something.
Quotes from Famous Christians
You Can Do it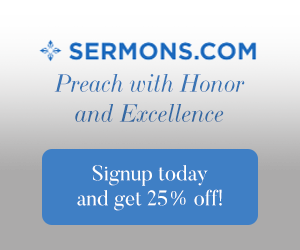 "I am only one, but still I am one. I cannot do everything, but still I can do something; and because I cannot do everything, I will not refuse to do something that I can do." ~ Helen Keller
Behave in Love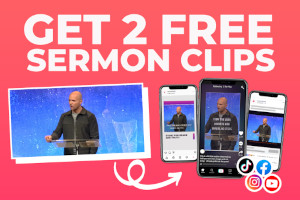 "Do not waste time bothering whether you 'love' your neighbor; act as if you did. As soon as we do this we find one of the great secrets. When you are behaving as if you loved someone, you will presently come to love him." ~ C.S. Lewis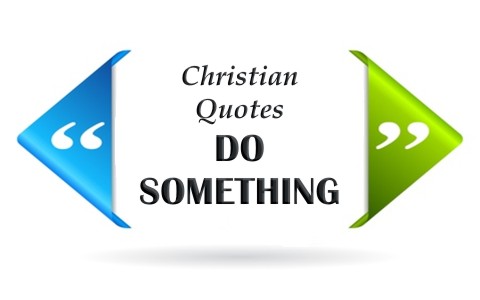 Keep Moving Forward
"If you can't fly, then run, If you can't run, then walk, If you can't walk, then crawl, but whatever you do, you have to keep moving forward." ~ Dr. Martin Luther King, Jr.
Cry Out to God
"The Christian life is not a constant high. I have my moments of deep discouragement. I have to go to God in prayer with tears in my eyes, and say, 'O God, forgive me,' or 'Help me.'" ~ Rev. Billy Graham
Use Circumstances Wisely
"God has a purpose behind every problem. He uses circumstances to develop our character. In fact, he depends more on circumstances to make us like Jesus than he depends on our reading the Bible." ~ Pastor Rick Warren
Long for God
"I've often thought, I'm nobody. Why would God answer my prayer? But God's not impressed by eloquence; he's impressed by our longing for him." ~ Stormie Omartian
Song Lyrics About Doing Something
"I'm so tired of talking about
How we are God's hands and feet
But it's easier to say than to be
Live like angels of apathy who tell ourselves
It's alright, 'somebody else will do something'
Well, I don't know about you
But I'm sick and tired of life with no desire
I don't want a flame, I want a fire and
I wanna be the one who stands up and says
'I'm gonna do something' ~ Matthew West, Do Something
"When you don't move the mountains
I'm needing you to move
When you don't part the waters
I wish I could walk through
When you don't give the answers
As I cry out to you
I will trust, I will trust, I will trust in you" ~ Lauren Daigle, Trust In You
"Not a burden we bear, not a sorrow we share,
But our toil He doth richly repay;
Not a grief or a loss, not a frown or a cross,
But is blessed if we trust and obey." ~ John H. Sammis, Trust and Obey
"I will sing, yes, I will praise, even in my darkest hour
Through the sorrow and the pain
I will sing, I will praise, lift my hands to honor You
Because Your word is true, I will sing" ~ Don Moen, I Will Sing
"And on that day when my strength is failing
The end draws near and my time has come
Still my soul will sing Your praise unending
Ten thousand years and then forevermore" ~ Matt Redman, 10,000 Reasons
"When I'm losing when I'm broken
When I'm sinking like a stone
And if feels like I'm alone
I will worship You" ~ Paul Baloche, I Will Worship You
"Let us then be true and faithful,
Trusting, serving every day;
Just one glimpse of Him in glory
Will the toils of life repay.
When we all get to heaven
What a day of rejoicing that will be!
When we all see Jesus,
We'll sing and shout the victory." ~ Eliza E. Hewitt, When We All Get to Heaven
"I'm waiting
I'm waiting on You, Lord
And I am hopeful
I'm waiting on You, Lord
Though it is painful
But patiently, I will wait
I will move ahead, bold and confident
Taking every step in obedience
While I'm waiting
I will serve You
While I'm waiting
I will worship
While I'm waiting
I will not faint
I'll be running the race
Even while I wait".~John Waller, While I'm Waiting
Encouragement to Do Something from the Bible
Ecclesiastes 9:10  Whatsoever thy hand findeth to do, do it with thy might; for there is no work, nor device, nor knowledge, nor wisdom, in the grave, whither thou goest.
Matthew 5:16  Let your light so shine before men, that they may see your good works, and glorify your Father which is in heaven.
John 15:16  Ye have not chosen me, but I have chosen you, and ordained you, that ye should go and bring forth fruit, and that your fruit should remain: that whatsoever ye shall ask of the Father in my name, he may give it you.
1 Corinthians 10:31  Whether therefore ye eat, or drink, or whatsoever ye do, do all to the glory of God.
1 Corinthians 15:58  Therefore, my beloved brethren, be ye stedfast, unmoveable, always abounding in the work of the Lord, forasmuch as ye know that your labour is not in vain in the Lord.
Ephesians 2:10  For we are his workmanship, created in Christ Jesus unto good works, which God hath before ordained that we should walk in them.
2 Timothy 2:15  Study to shew thyself approved unto God, a workman that needeth not to be ashamed, rightly dividing the word of truth.
Final Thoughts
Doing something, especially something for someone else, keeps our thoughts and minds on esteeming others better than ourselves (Philippians 2:3). It is quite difficult to become discouraged when we are thinking on others.
Here is something else for you: Words of Encouragement
Resource – Scripture quotations are from The Holy Bible, King James Version