One Last Thing – Movie Review
In theaters on Wednesday, June 13th only
a one-night event only
Bucket List
What's on your bucket list? Maybe it's a summer bucket list of things to do with your kids before school starts again. Maybe it's a "before I turn 40" bucket list. Or maybe it's a "before I die bucket list." We all have things we want to see, do, and accomplish in our lives, whether or not we've taken the time to make a true list of these things. The lists change throughout our lives too. Priorities change. Life can do that. What we once thought of as our most prized possession, or our greatest goal, or the biggest thing on our bucket list, can come to mean little compared to something else that has entered our lives. The movie One Last Thing explores these ideas through the story of Dylan Derringer, and his long-lost daughter Lucy. We see priorities and dreams change as their relationship forms. We see hope and love spring from a sad, dark place. And we see the good triumph despite life's attempt to crush it.
Dylan and Lucy
Dylan Derringer is a middle aged man with a seemingly good life. He has an established dental practice in Florida, golfs daily at a club where he even has his own reserved parking spot, and goes home to a nice house. Little does he know that his life is about to be turned upside down with the discovery that the child he thought he may have had finally been found. A private investigator he had hired years ago finally finds Lucy, a 20 something living in Brooklyn. Lucy has had a tough life, losing her mother to drug addiction at the age of 15, never knowing her father, and battling some major medical issues. When Dylan finds out about Lucy, he decides to go see her, and introduce himself. This is much more difficult than a simple statement of introduction though, and Dylan almost backs out of his plan. Once the two meet, it takes time and effort to break down walls built up in Lucy's life. But through Lucy's love of handwritten letters, along with frequent visits by Dylan, a friendship forms and the two become close. Dylan's priorities change from golf and work, to spending time with Lucy and helping her with her medical issues. In one scene, Lucy asks Dylan what's on his bucket list. She says she's thought about it a lot, because of her medical issues, and that she wants to visit Paris and spend time photographing the beauty of the city where many of her favorite authors lived years ago. Dylan talks about visiting Scotland and golfing in the place where golf first began. He comments that until recently, he didn't have much in his life other than golf, so this was his bucket list item, his one last thing. But now that Lucy is in his life, his focus turns to their friendship, and to helping her. Life has given him a second chance at knowing his daughter, and he wants to take full advantage of that chance.
Hope and Love
When Lucy's medical issues take a turn for the worse, Dylan realizes he may be able to help. The series of ups and downs that Dylan and Lucy face after this will have you on the edge of your seat, gasping, crying, and rejoicing. It is truly a story of hope and love that thrive despite the weeds of life trying to choke them down. The struggles of their relationship and of the trials Lucy is faced with are very real, very painful. But Dylan's priorities have changed, and Lucy means everything to him now. Despite the challenges, Dylan finds a way to help Lucy, and to reach her even when she didn't want to be reached. While it may not be suitable for all viewers due to some strong language and a same sex relationship, One Last Thing is a great story of hope that teaches us two valuable lessons. First, persistence pays off. Dylan's persistence in searching for his child, and then his persistence in forming a friendship with her show us that it's not always easy to reach someone. It's not always easy to break down walls formed from years of feeling unloved. And it's definitely not always easy to give someone the help they need. But it's worth the hard work. Second, good is still alive and well in our hurting world. We see tragedy every day. We see evil people, and we feel discouraged. But good people are still out there, and good will always triumph over evil in the end. Dylan and Lucy show us this, through a friendship formed despite life's difficulties, through persistence in fighting for that relationship, and through choosing to do good, even though doing nothing would have been much easier. In Dylan and Lucy, we see priorities and bucket lists change. We see good triumph over bad, and we see hope and love spring eternal.
Only in movie theaters for one night!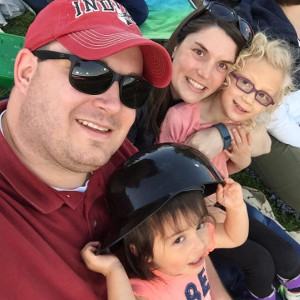 Julie McConnell
Julie is a life-long Hoosier, wife, and mother of two. When she is not working in her pharmacy, she spends her time with her husband and daughters in Indianapolis. She is a member of Geist Christian Church and enjoys playing outside with her girls, finding fun things to do in Indy, watching football, and reading bedtime stories.