Today, depression hits almost everyone, inside and outside of the church, so how can the Bible help us fight depression when it comes?
Bible Heroes with Depression
Today, depression hits almost everyone, inside and outside of the church, so how can the Bible help us fight depression when it comes? First of all, you are not alone when you feel depressed. Some of the greatest heroes of the Bible have faced deep and lasting depression, and it was so bad, they wanted to end their lives, but that wasn't how it ended for them, and your life doesn't have to end that way either. Jonah asked the crew on the ship that he was on to toss him into the sea because he was the cause of the storm threatening to sink the ship (Jonah 1:12). Jonah must have known he was going to die.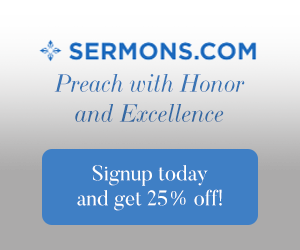 Shortly after Elijah's mountaintop experience with the defeat and death of all the false prophets, he "went a day's journey into the wilderness and came and sat down under a broom tree. And he asked that he might die, saying, "It is enough; now, O Lord, take away my life, for I am no better than my fathers" (1 Kings 19:4). It wasn't that the Apostle Paul wanted to commit suicide, but he did say he suffered so much that he said, "For we do not want you to be unaware, brothers, of the affliction we experienced in Asia. For we were so utterly burdened beyond our strength that we despaired of life itself" (2 Cor 1:8). The great leader of Israel, Moses, once told God, "If you will treat me like this, kill me at once, if I find favor in your sight, that I may not see my wretchedness" (Num 11:15). During Job's intense suffering, he thought it would have been better if he had never been born (Job 3:11, 20-22). As you can see, if you are living with depression, you are certainly not the only one that has had to battle this.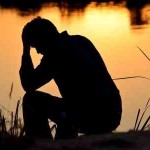 The Power of the Word
The Word of God has real power. It's been described as the living, breathing Word of God, or the very breath of God (Heb 4:12), so the Bible is God speaking to us and it has a lot to say to us, especially when the world seems to grow dark around us. Almost every Christian I know has suffered through a "dark night of the soul," but most of them came out of that darkness and into the light. How? It was by clinging to the great and precious promises of God (2 Pet 1:4). One such promise is the security of the believer in Christ. The Apostle Paul said that he was "sure that neither death nor life, nor angels nor rulers, nor things present nor things to come, nor powers, nor height nor depth, nor anything else in all creation, will be able to separate us from the love of God in Christ Jesus our Lord" (Rom 8:38-39). Since Paul was sure, you can be sure too! Sure of what? That nothing or no one in this world than can keep us from entering the Kingdom of Heaven (John 6:37-39, 10:28-29). There is real power in God's Word (Rom 1:16; 1 Cor 1:18). Not only the power to save, but the power to encourage us, draw us out of depression, and give us a thankful heart.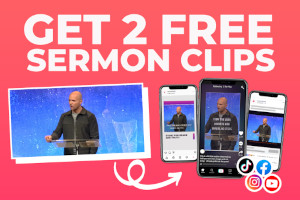 Thankfulness
A superb way to destroy the depression in your life is to be thankful. It's hard to be depressed when you're pouring out thanksgiving to the Lord for all He has provided and for what is to come in the Kingdom of Heaven. One major reason to be thankful is that we are saved from the wrath of God and given grace and mercy, thanks to our High Priest's atoning work on the cross. Paul says we are to "Give thanks in all circumstances; for this is the will of God in Christ Jesus for you" (1 Thess 5:18), and to be "Giving thanks always and for everything to God the Father in the name of our Lord Jesus Christ" (Eph 5:20). When we come to hear the Word of God preached, we must come to the church and "Enter his gates with thanksgiving, and his courts with praise! Give thanks to him; bless his name" (Psalm 100:4)! Clearly, we have reasons to be thankful, so we must "Praise the Lord" (and) "give thanks to the Lord, for he is good, for his steadfast love endures forever" (Psalm 106:1)!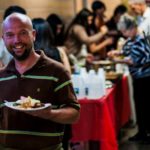 Serving Others
If you want to lift the depression, like a cloud hanging over your head, then start to serve others. When we're serving at a soup kitchen, we can see for ourselves that many people in this world go hungry every day and are often poorly clothed. By serving the less-fortunate, we can see just how much God has blessed us with. When you begin to serve others, you'll discover that you take your eyes off of self and fix them upon others. Serving others takes our minds off our own problems and can lift our depression like a summer breeze pushing all the storm clouds away. This is our calling anyway (Matt 25:35-36), and as we do unto others, we are actually doing these things unto Christ (Matt 25:40).
Conclusion
If your depression lasts for a very long time, I suggest you see your doctor because there could be a physical cause for it and it might be able to be treated with medication. Almost everyone gets depressed from time to time, but when you feel you can't escape it, seek help, either by talking to your doctor, seeking Christian counseling, or by some other means (mentioned in this article). You don't have to live "down in the dumps" for the rest of your life. You can break free from depression by taking stock of your life, considering all that God has done for you, and that His great and precious promises for eternal joy and bliss is coming.
Here is some related reading for you: Christian Depression Help: Biblical Encouragement and Advice
Resource – Scripture quotations are from The Holy Bible, English Standard Version® (ESV®), Crossway Bibles. (2007). ESV: Study Bible: English standard version. Wheaton, Ill: Crossway Bibles. Used by permission. All rights reserved.