There is an idiom that goes something like this "Actions speak louder than words". If you try to find where this saying or something like it comes from you will see that it can be attributed as far back as the 1600s. Even so, what does that really mean? Simply speaking it means that your words mean nothing until you put them into action – you do something. Jesus spoke this truth and it is recorded in the Bible in 1 John 3:17-18:
"But whoso hath this world's good, and seeth his brother have need, and shutteth up his bowels of compassion from him, how dwelleth the love of God in him? My little children, let us not love in word, neither in tongue; but in deed and in truth."
So then, how can we back up the words that we will go out into the world and share the gospel with action? Here are 5 ways to evangelize through our actions.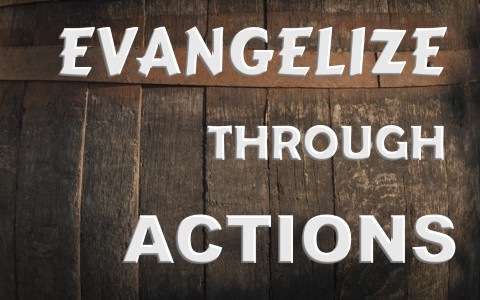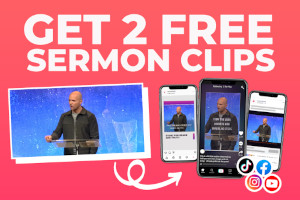 Meet Them Where They Are
1 Corinthians 9:22 "To the weak became I as weak, that I might gain the weak: I am made all things to all, that I might by all means save some."
In the context of this verse we see that Paul met people where they were. He says in verses 21 and 22 that he became as them (Jews and non Jews). He understood that the best way to get the message across was to understand the customs and speak to them through their own ways. Paul was raised a Jew but needed to learn the practices of the Gentiles since they were his major audience. What we can learn from this is that we should not hit the baby Christian with a fire and brimstone gospel when we are evangelizing one-on-one. Instead we should put it into words that they understand and practice deference to their ways. Our job is to present the gospel, not to change them into something different. Leave that to the Holy Spirit.
Roll Up Your Sleeves
2 Timothy 4:3-5 "For the time will come when they will not endure sound doctrine; but after their own lusts shall they heap to themselves teachers, having itching ears; And they shall turn away their ears from the truth, and shall be turned unto fables. But watch thou in all things, endure afflictions, do the work of an evangelist, make full proof of thy ministry."
The idea of "rolling up your sleeves" is often said of a good manager. He rolls up his sleeves when he sees a need. For example, if the tables at the restaurant need bussed, he gets in there and does it when he sees that his staff is busy doing other things. In the same way when it is time to share the gospel and you see an opportunity, take it. Don't wait for someone else to do what you can do yourself. When my children were little they were learning the importance of sharing Jesus with people they meet. We were in a public place and I saw a man who reminded me of my Daddy. I noticed he was wearing a WWII cap and that gave me some common ground to share. I ask where he served in the war and he shared his story. This meeting between us and the WWII veteran happened not long after the terrorist attack on the USA that we now call 911. I shared that my Dad was also in the war and spoke a little of the things that I knew of his service. I then asked this kind man if what was happening in today's world bothered him at all. He shared that he was frightened and even mentioned a possible WWIII. I then asked if he were to die today if he knew for sure that he would go to heaven. That was my in – I found a common ground and looked for opportunity. From there one of my daughters walked this lovely man through John 3:16 explaining the verse step by step. This man did not claim Jesus as his Savior that day but we were confident that because I rolled up my sleeves and found common ground that this man heard the clear gospel. In this incident my actions spoke to my children and they jumped right in. Don't waste time, do it when you have opportunity.
Give to Those That Have Need
Ephesians 4:18 "Let him that stole steal no more: but rather let him labour, working with his hands the thing which is good, that he may have to give to him that needeth."
One of the best ways to evangelize through action is to give to those that have need. Many times you will see a homeless person on the street holding up a sign that says "hungry, need food". Generally they are situated on a street corner and they will approach cars asking for money. I am not saying don't give them money, however if they are truly hungry why not give them food? I find myself going through a nearby drive-thru to get some food for that hungry person often. In the process of feeding their flesh I also let them know that God loves them and I share the gospel with them so that I can feed their spirit too. Your act of kindness will open the heart of the hungry and may even give them a personal Savior.
Visit the Elderly and Sing
Deuteronomy 5:33 "Ye shall walk in all the ways which the Lord your God hath commanded you, that ye may live, and that it may be well with you, and that ye may prolong your days in the land which ye shall possess."
Old age is a gift from God. However there are many elderly people in your own community that may not think old age to be a gift at all. They may be shut into their home and unable to get out and visit folks. Or they may be in an extended care facility where nearly no one ever comes to visit them. Their unending loneliness clouds the blessing. What better way to share the gospel than to visit the elderly. They love to see people. They love to sing songs and most of them even have many, many great hymns of faith memorized in their hearts. Go a step further and take young people to see and sing to the elderly, you will see a joy on their adoptive grandma and grandpa's faces like no other.  Singing the great hymns of faith and even some of today's contemporary songs will share the gospel in a very special way. Music is a powerful way of acting out your evangelism.
Other Random Acts of Kindness
Philippians 2:3-4 "Let nothing be done through strife or vainglory; but in lowliness of mind let each esteem other better than themselves. Look not every man on his own things, but every man also on the things of others."
At the time of this writing my sister is sharing one idea for a random act of kindness for each day this month. I think this is a great way to evangelize through actions.  Here are some of the ideas that she has shared so far and in parenthesis I share how you can turn it into an evangelistic opportunity:
Buy a hot cocoa or coffee for the Salvation Army bell ringer (write a Scripture verse on the cup)
Purchase a buy one get one item and give the free one to someone you know needs to know Jesus (tell them A man that hath friends must shew himself friendly: and there is a friend that sticketh closer than a brother (Prov 18:24) and then tell them about your "brother" Jesus)
Donate warm clothing or blankets to a homeless shelter or coat drive (put a tag on your donation that says: "I was naked and you clothed me … I love you, signed Jesus")
Bring in an elderly neighbors mail (include a little inspirational book or even a small Bible with the mail).
Final Thoughts
Your actions do speak louder than words and you can back up your words about Jesus in these five simple ways. Meet them where they are, don't be afraid to get down to their level and share the gospel in simple words that they understand. Don't wait for someone else to take the lead, roll up your sleeves and take the lead, then let someone else drive it home. When you see someone is hungry, give them food for their body and spirit. Sing with the elderly and brighten their day by inviting the young people to sing with you. Finally, do random acts of kindness, but don't stop there. Be sure to include the gospel message with the acts of kindness. Evangelizing through your own actions is possible and very powerful.
Related reading : How to Evangelize Door-to-Door
Resource – Scripture quotations are from The Holy Bible, King James Version