Family trouble today is at an all-time high. Marriages are falling apart, children are disobedient and quite frankly, love is waxing cold. But the fact of the matter is that "…there is no new thing under the sun" (Ecclesiastes 1:9). Though there are so many things that contribute to the breakup of families, I have identified just 4 things that could possibly contribute to 90% of the problem. Take a look at what the Bible says are just 4 things that can destroy your family.
Ungrateful or Unworthy Family Members
Ungrateful and unworthy family members are those that have no regard for the blessings that they are given as a family. They are children that take for granted the sacrifice of mother and father by consuming time and resources because they believe that the family revolves around them. They are the husband or wife that regularly mistreats the other and goes about their business as if there are no problems at all. They are those that cause division and heartache and are never willing to ask for forgiveness for their wrong deeds, nor repair and restore the broken relationships.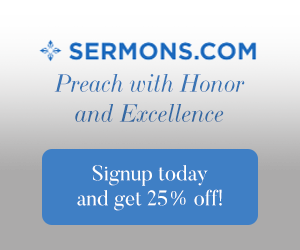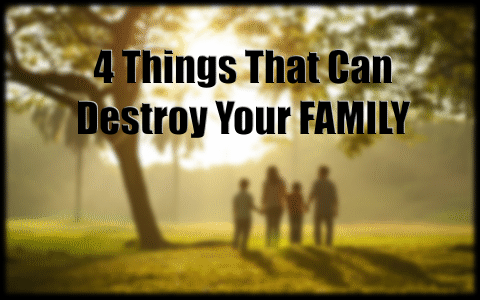 Husbands:
1 Samuel 25:25 Let not my lord, I pray thee, regard this man of Belial, even Nabal: for as his name is, so is he; Nabal is his name, and folly is with him: but I thine handmaid saw not the young men of my lord, whom thou didst send.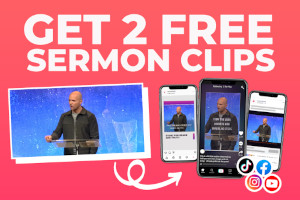 1 Kings 11:3 And he had seven hundred wives, princesses, and three hundred concubines: and his wives turned away his heart.
Matthew 10:37 He that loveth father or mother more than me is not worthy of me: and he that loveth son or daughter more than me is not worthy of me.
Wives:
1 Kings 21:25 But there was none like unto Ahab, which did sell himself to work wickedness in the sight of the LORD, whom Jezebel his wife stirred up.
2 Kings 11:1 And when Athaliah the mother of Ahaziah saw that her son was dead, she arose and destroyed all the seed royal.
Proverbs 21:19 It is better to dwell in the wilderness, Than with a contentious and an angry woman.
Children:
Deuteronomy 21:20 And they shall say unto the elders of his city, This our son is stubborn and rebellious, he will not obey our voice; he is a glutton, and a drunkard.
2 Samuel 15:6 And on this manner did Absalom to all Israel that came to the king for judgment: so Absalom stole the hearts of the men of Israel.
Psalm 58:3 The wicked are estranged from the womb: They go astray as soon as they be born, speaking lies.
Ephesians 6:1 Children, obey your parents in the Lord: for this is right.
Substance Abuse
Perhaps even the number one cause of family breakup is when one or more of the family members misuse drugs and alcohol. These substances cause the user to have a seared conscience and therefore they disregard everyone else in the family. They often choose to buy drugs or alcohol over the need to make a mortgage payment or buy groceries. The substance abuse often leads to missed days at work and ultimately causes the user to be unemployed. Continued use of the drugs and alcohol even leads to death, intentional or not, leaving in its wake loved ones that no longer have a Mommy or Daddy, brother or sister.
Proverbs 4:23 Keep thy heart with all diligence; For out of it are the issues of life.
Romans 13:12–14 The night is far spent, the day is at hand: let us therefore cast off the works of darkness, and let us put on the armour of light. Let us walk honestly, as in the day; not in rioting and drunkenness, not in chambering and wantonness, not in strife and envying. But put ye on the Lord Jesus Christ, and make not provision for the flesh, to fulfil the lusts thereof.
1 Corinthians 5:11 But now I have written unto you not to keep company, if any man that is called a brother be a fornicator, or covetous, or an idolater, or a railer, or a drunkard, or an extortioner; with such an one no not to eat.
Galatians 5:19–21 Now the works of the flesh are manifest, which are these; Adultery, fornication, uncleanness, lasciviousness, Idolatry, witchcraft, hatred, variance, emulations, wrath, strife, seditions, heresies, Envyings, murders, drunkenness, revellings, and such like: of the which I tell you before, as I have also told you in time past, that they which do such things shall not inherit the kingdom of God.
Ephesians 5:18–19 And be not drunk with wine, wherein is excess; but be filled with the Spirit; Speaking to yourselves in psalms and hymns and spiritual songs, singing and making melody in your heart to the Lord;
1 Thessalonians 5:6–8 Therefore let us not sleep, as do others; but let us watch and be sober. For they that sleep sleep in the night; and they that be drunken are drunken in the night. But let us, who are of the day, be sober, putting on the breastplate of faith and love; and for an helmet, the hope of salvation.
Adultery
Adultery is a huge temptation. Sometimes simple friendships between a man and a woman transform into something more when left unchecked. For this reason we must be careful to have safe friendships with the opposite sex. Wives should not be spending time with men, other than their husband, father or brother, unless one or more other people are present. Some people believe that it is okay to have what is called an "open relationship" whereby the husband and wife have intimate relations outside of their marriage. This is completely against what the Bible teaches. Adultery usually leads to divorce and divorce also destroys the family.
Deuteronomy 22:22 If a man be found lying with a woman married to an husband, then they shall both of them die, both the man that lay with the woman, and the woman: so shalt thou put away evil from Israel.
Proverbs 6:32 But whoso committeth adultery with a woman lacketh understanding: He that doeth it destroyeth his own soul.
1 Corinthians 6:18 Flee fornication. Every sin that a man doeth is without the body; but he that committeth fornication sinneth against his own body.
Hebrews 13:4 Marriage is honourable in all, and the bed undefiled: but whoremongers and adulterers God will judge.
Divorce
God hates divorce. But that is not to say that there are sometimes innocent parties in a divorce. For example, when the husband leaves his wife for another woman, she has not sinned and is not held responsible for his sin. That is because the exception to not allowing divorce is when fornication is involved. But even in the case of disloyalty in a marriage, God can still repair the marriage when both parties are willing to stand ready to forgive and/or offer forgiveness. When divorce happens the family changes profoundly. Either Mommy or Daddy moves out and now the children are having to live in two separate houses. This creates an environment of instability and causes children to never really have a sense of permanency. Soon you will see it as the children "act out" their frustrations through disrespect, substance abuse or even sexually promiscuity.
Galatians 2:21 I do not frustrate the grace of God: for if righteousness come by the law, then Christ is dead in vain.
Malachi 2:16 For the LORD, the God of Israel, saith that he hateth putting away: For one covereth violence with his garment, saith the LORD of hosts: Therefore take heed to your spirit, that ye deal not treacherously.
Matthew 5:32 But I say unto you, That whosoever shall put away his wife, saving for the cause of fornication, causeth her to commit adultery: and whosoever shall marry her that is divorced committeth adultery.
Final Thoughts
No doubt, the breakdown of the family is Satan's prime target, because he knows that marriage is the earthly representation of the relationship between Christ and the Church (Ephesians 5:22-32). And if he can destroy the marriage (and family) he can destroy the church. For this reason, we must always to ready to fight against his attacks by arming ourselves with the weapons of war as found in Ephesians 6:4-20:
Ephesians 6:14–20 Stand therefore, having your loins girt about with truth, and having on the breastplate of righteousness; And your feet shod with the preparation of the gospel of peace; Above all, taking the shield of faith, wherewith ye shall be able to quench all the fiery darts of the wicked. And take the helmet of salvation, and the sword of the Spirit, which is the word of God: Praying always with all prayer and supplication in the Spirit, and watching thereunto with all perseverance and supplication for all saints; And for me, that utterance may be given unto me, that I may open my mouth boldly, to make known the mystery of the gospel, For which I am an ambassador in bonds: that therein I may speak boldly, as I ought to speak.
Here is some related reading for you: 4 Tips For a More Peaceful Family and Household
Resource – Scripture quotations are from The Holy Bible, King James Version.