Pastor and author Levi Lusko offers a forty-day interactive journey that challenges readers to come face to face with the reality of their life circumstances, identify the internal battles they must personally declare war on, and become the difference-maker in this world that God created them to be.
Gird Up Your Loins
Levi Lusko, founder and lead pastor of Fresh Life Church, located in Montana, Wyoming, Oregon, and Utah, is also a best-selling author and pastor Lusko's book, Take Back Your Life, gives the reader an action plan with journaling space so that you can turn your thoughts into real change in your life. That's important because when you look back at it over time, you'll see just how much change has taken place in your life. Pastor Lusko wants every believer to know that everyone has a mission in life and that God has a specific plan for them to impact their own part of the world. I believe if we "gird up our loins" with this knowledge ahead of time, the trials and tribulations won't throw us into a panic or depression. Instead, when the dark times come, and they will come, we can be prepared and allow these things to be opportunities for God to do something big.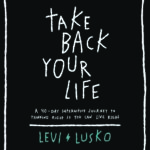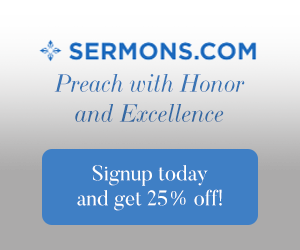 When Trouble Comes
Everyone will face things like the loss of a job, the death of a loved one or friend, or a serious illness, but the author can help believers deal with those issues, and the anxiety and fear they produce. You don't have to be left feeling trapped, left in bad moods or having self-sabotaging tendencies. There is a way you can get through these things by staying focused on our God-given mission and purpose in life. Tragedy will come to everyone's life at some point; the question is, "Do we see it through the lens of Scripture and God's sovereign purposes?"
Breathe, Think and Live
Near the end of each "Day" is a section called "Breathe, Think and Live." These inspirational thoughts summarize the day's message and asks diagnostic questions, like "What's the worst that could happen if you try and fail? What's the best that could happen (157)?" These questions are meant to put things into perspective…an eternal one, and one that's viewed through Scripture and God's greater purposes for our life. Just to "breathe" means we probably need to slow down and process (and think about) things carefully before making rash decisions…or to think through or ponder the Daily lesson the author has just given in the Day's lesson and what it means to our life. After we've had time to "breath" and "think," then it's time for application or to "live" it out in life. In fact, after reading Scripture, it might be helpful to "breathe, think and live" what you just read.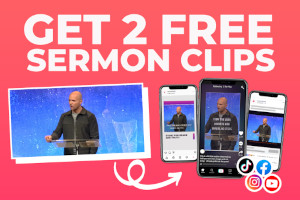 Bible Verses and Prayers
I really enjoy the fact that the author begins each Day with a Bible verse that is perfectly suited for the Daily lesson, and then he closes with a prayer that asks for application of the day's reading. The forty-day book, Take Back Your Life, is laced with Scriptures and important teachings from Jesus, like laying down our lives in order to follow Him. It's hard to follow Him when we're following our own agenda.
Impressive Points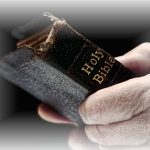 There are so many bits and pieces of godly wisdom in this book that it's impossible to quote them all, but there are several important quotes that do stand out. Some comments are so substantial that I quote the author below, but these are only but a few. I also noticed the pastor came up with these quotes by learning things the hard way. And I mean, the very hard way (see Day Eight). Experience, it seems, gives you the test before you've had time to study!
Success isn't the immediate goal. Obedience always is (26).
I've made the mistake of doing the right thing the wrong way. Traded the eternal for the temporary (x111).
Looking back, it is easy to see all the dots that God connected to unfold His plan (247).
If God didn't give it, you don't have to keep it. This is your permission slip to let that go (46).
Being part of a (Christian) pack is not just a necessity; it's a gift (199).
Being made in God's image…we were created to create by a Creator. His workmanship (24).
Butterflies have to struggle to come into their own (244).
I have allowed anxiety to have a seat at the table reserved only for God…" (x111).
Some superwise person once observed that most people die at twenty-five and aren't buried until they're seventy-five (157).
The best way to feed the positive and starve the negative…is through reciting Scripture and singing worship songs (93).
Conclusion
Forty is associated with testing in Scripture and this book is a forty-day interactive journey that will test or challenge you to face the reality of life's circumstances; to identify the internal battles that all of us must face, and it's a fierce battle indeed. In fact, it's a war, but God created us to be difference-makers in this status-quo world. Just looking at this book in a practical sense, it is a very well-priced hardcover book with over 300 pages of practical life-applications and Scriptures for our daily spiritual walk with Christ.
I believe Pastor Levi Lusko wants you to Take Back Your Life, by taking you through his interactive forty-day, week-by-week, day-by-day journey and learn what he learned…and again, it was usually the hard way. He learned how to see trials and troubles as opportunities for God to open doors and new people coming into your life that you would have never had the chance to share Christ. The forty-day journey is perfect for a study group, a Bible study, and even a Sunday school class, and after going through the book as I did, you won't see the glass as either half-empty or half-full. You'll just be thankful you have a glass, using whatever you have in the glass as an opportunity for God to do something marvelous. And personally, I can't wait to see what that will be for you and for me!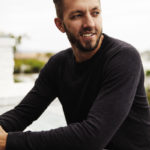 Author's Bio: Levi Lusko is the founder and lead pastor of Fresh Life Church, located in Montana, Wyoming, Oregon, and Utah. He is the bestselling author of Through the Eyes of a Lion, Swipe Right, and I Declare War. Levi also travels the world speaking about Jesus. He and his wife, Jennie, have one son, Lennox, and four daughters: Alivia, Daisy, Clover, and Lenya, who is in heaven.
Take Back Your Life – Levi Lusko Book Review. (Thomas Nelson Publishing, 2020).
Here is some related reading for you: How to Overcome Anxiety: 7 Tips for Christians
Resource – Scripture quotations are from The Holy Bible, English Standard Version® (ESV®), Crossway Bibles. (2007). ESV: Study Bible: English standard version. Wheaton, Ill: Crossway Bibles. Used by permission. All rights reserved.