As believers we have a choice to walk in the Spirit or not. As we walk in the Spirit we will not only see progress in our earthly relationships, but our relationship with the Lord grows and develops – just like a garden. On the contrary, when we choose to walk in the flesh we will begin to see a deterioration of relationships, especially our bond with the Lord. Here are some tell-tale signs that your relationship with the Lord is developing or deteriorating. What looks more like you?
Developing – Loving and Caring for Others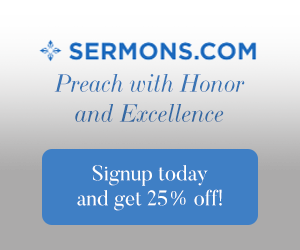 Romans 15:2 Let every one of us please his neighbour for his good to edification.
Ephesians 4:15 But speaking the truth in love, may grow up into him in all things, which is the head, even Christ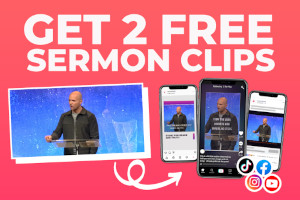 Philippians 2:2 Fulfil ye my joy, that ye be likeminded, having the same love, being of one accord, of one mind.
1 Thessalonians 3:12–13 And the Lord make you to increase and abound in love one toward another, and toward all men, even as we do toward you: To the end he may stablish your hearts unblameable in holiness before God, even our Father, at the coming of our Lord Jesus Christ with all his saints.
Deteriorating –  Selfish and Envious
Proverbs 14:14 The backslider in heart shall be filled with his own ways: And a good man shall be satisfied from himself.
Proverbs 18:2 A fool hath no delight in understanding, But that his heart may discover itself.
1 Corinthians 3:18 Let no man deceive himself. If any man among you seemeth to be wise in this world, let him become a fool, that he may be wise.
James 3:16 For where envying and strife is, there is confusion and every evil work.
---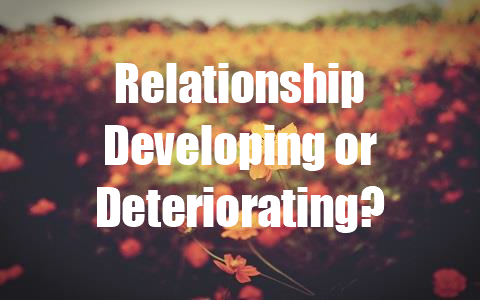 Developing – Daily in His Word
2 Timothy 2:15 Study to shew thyself approved unto God, a workman that needeth not to be ashamed, rightly dividing the word of truth.
1 Peter 2:2 As newborn babes, desire the sincere milk of the word, that ye may grow thereby:
2 Peter 3:18 But grow in grace, and in the knowledge of our Lord and Saviour Jesus Christ. To him be glory both now and for ever. Amen.
James 1:22–24 But be ye doers of the word, and not hearers only, deceiving your own selves. For if any be a hearer of the word, and not a doer, he is like unto a man beholding his natural face in a glass: For he beholdeth himself, and goeth his way, and straightway forgetteth what manner of man he was.
Deteriorating – No Interest in Spiritual Things
Proverbs 1:7 The fear of the LORD is the beginning of knowledge: But fools despise wisdom and instruction.
Psalm 118:8 It is better to trust in the LORD Than to put confidence in man.
Matthew 24:12 And because iniquity shall abound, the love of many shall wax cold.
1 Corinthians 2:14 But the natural man receiveth not the things of the Spirit of God: for they are foolishness unto him: neither can he know them, because they are spiritually discerned.
Revelation 2:4 Nevertheless I have somewhat against thee, because thou hast left thy first love.
---
Developing – Seeking Things of God
Psalm 55:17 Evening, and morning, and at noon, will I pray, and cry aloud: And he shall hear my voice.
Matthew 6:33 But seek ye first the kingdom of God, and his righteousness; and all these things shall be added unto you.
Hebrews 5:14 But strong meat belongeth to them that are of full age, even those who by reason of use have their senses exercised to discern both good and evil.
1 John 2:15–17 Love not the world, neither the things that are in the world. If any man love the world, the love of the Father is not in him. For all that is in the world, the lust of the flesh, and the lust of the eyes, and the pride of life, is not of the Father, but is of the world. And the world passeth away, and the lust thereof: but he that doeth the will of God abideth for ever.
Deteriorating – Bound to Worldly Things
Galatians 4:9 But now, after that ye have known God, or rather are known of God, how turn ye again to the weak and beggarly elements, whereunto ye desire again to be in bondage?
2 Timothy 4:10 For Demas hath forsaken me, having loved this present world, and is departed unto Thessalonica; Crescens to Galatia, Titus unto Dalmatia.
2 Chronicles 25:14 Now it came to pass, after that Amaziah was come from the slaughter of the Edomites, that he brought the gods of the children of Seir, and set them up to be his gods, and bowed down himself before them, and burned incense unto them.
---
Developing – Desire the Things of the Lord
Deuteronomy 7:9–10 Know therefore that the LORD thy God, he is God, the faithful God, which keepeth covenant and mercy with them that love him and keep his commandments to a thousand generations; And repayeth them that hate him to their face, to destroy them: he will not be slack to him that hateth him, he will repay him to his face.
Psalm 16:11 Thou wilt shew me the path of life: In thy presence is fulness of joy; At thy right hand there are pleasures for evermore.
Psalm 37:4 Delight thyself also in the LORD; And he shall give thee the desires of thine heart.
Matthew 6:24 No man can serve two masters: for either he will hate the one, and love the other; or else he will hold to the one, and despise the other. Ye cannot serve God and mammon.
Deteriorating – Don't Want Anything to do With God
Proverbs 8:36 But he that sinneth against me wrongeth his own soul: All they that hate me love death.
Hebrews 10:38 Now the just shall live by faith: but if any man draw back, my soul shall have no pleasure in him.
1 John 4:20 If a man say, I love God, and hateth his brother, he is a liar: for he that loveth not his brother whom he hath seen, how can he love God whom he hath not seen?
---
Developing – Associations with Christ-like-minded Brethren
Psalm 1:1 Blessed is the man That walketh not in the counsel of the ungodly, Nor standeth in the way of sinners, Nor sitteth in the seat of the scornful.
Proverbs 1:15–16 My son, walk not thou in the way with them; Refrain thy foot from their path: For their feet run to evil, And make haste to shed blood.
Matthew 7:13 Enter ye in at the strait gate: for wide is the gate, and broad is the way, that leadeth to destruction, and many there be which go in thereat:
Deteriorating – Ungodly Associations
Amos 3:3 Can two walk together, except they be agreed?
Luke 9:62 And Jesus said unto him, No man, having put his hand to the plough, and looking back, is fit for the kingdom of God.
Romans 16:17–18 Now I beseech you, brethren, mark them which cause divisions and offences contrary to the doctrine which ye have learned; and avoid them. For they that are such serve not our Lord Jesus Christ, but their own belly; and by good words and fair speeches deceive the hearts of the simple.
1 Corinthians 15:33 Be not deceived: evil communications corrupt good manners.
1 John 4:1 Beloved, believe not every spirit, but try the spirits whether they are of God: because many false prophets are gone out into the world.
---
Developing – Enjoying Fullness of Life
Psalm 16:11 Thou wilt shew me the path of life: In thy presence is fulness of joy; At thy right hand there are pleasures for evermore.
John 10:10 The thief cometh not, but for to steal, and to kill, and to destroy: I am come that they might have life, and that they might have it more abundantly.
John 17:13 And now come I to thee; and these things I speak in the world, that they might have my joy fulfilled in themselves.
Romans 15:13 Now the God of hope fill you with all joy and peace in believing, that ye may abound in hope, through the power of the Holy Ghost.
1 Peter 1:8–9 Whom having not seen, ye love; in whom, though now ye see him not, yet believing, ye rejoice with joy unspeakable and full of glory: Receiving the end of your faith, even the salvation of your souls.
Deteriorating – Empty and Shallow Life
Proverbs 17:21 He that begetteth a fool doeth it to his sorrow: And the father of a fool hath no joy.
Ecclesiastes 2:10–11 And whatsoever mine eyes desired I kept not from them, I withheld not my heart from any joy; for my heart rejoiced in all my labour: and this was my portion of all my labour. Then I looked on all the works that my hands had wrought, and on the labour that I had laboured to do: and, behold, all was vanity and vexation of spirit, and there was no profit under the sun.
Luke 8:13 They on the rock are they, which, when they hear, receive the word with joy; and these have no root, which for a while believe, and in time of temptation fall away.
Luke 11:24 When the unclean spirit is gone out of a man, he walketh through dry places, seeking rest; and finding none, he saith, I will return unto my house whence I came out.
Galatians 1:6–7 I marvel that ye are so soon removed from him that called you into the grace of Christ unto another gospel: Which is not another; but there be some that trouble you, and would pervert the gospel of Christ.
Final Thoughts
Clearly, even though we are Christians we still have the free will to choose whether or not we walk in the Spirit. It is a daily battle and that is why Paul reminds us to beware of the wiles of the devil and take up our weapons for the battle (Read also Ephesians 6:10-20).
Something else for you to read: 7 Great Bible Verses About Walking in the Light
Resource – Scripture quotations are from The Holy Bible, King James Version