Worship leaders play an important part in services, so to help them better serve the Lord and the church, here are some great Bible verses for worship leaders to study, contemplate, and meditate on.
A Joyful Noise
Not everyone has the voice for singing, but that doesn't matter when it comes to singing songs to the Lord and praising Him in worship music. The Bible doesn't say, "Make sure you have perfect pitch" and rejoice in the Lord, but "Make a joyful noise to the LORD, all the earth; break forth into joyous song and sing praises" (Psalm 98:4). God does not care if you're flat or sharp…He looks at your heart in worship and not what you sound like. I've heard some very bad singing in church, but it wasn't due to their lack of joy. In fact, we're commanded to "Sing to God, sing praises to his name; lift up a song to him who rides through the deserts; his name is the Lord; exult before him" (Psalm 68:4)! Remember, you and I are singing unto the Lord, so let's not worry about what others think about our voice. Only God's opinion matters here.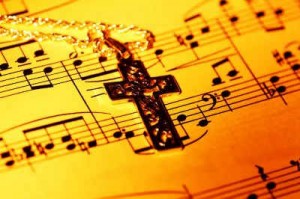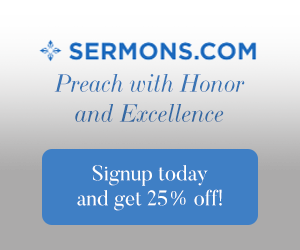 Praising Him
Worship music is not about having everything go perfectly, but about having our hearts perfectly fixed and devoted onto Christ. We come to sing praises to Him, not to impress others. It's good when the worship services go well, but even if they don't, this is "unto the Lord" and not for us alone. The Apostle Paul said, "I will pray with my spirit, but I will pray with my mind also; I will sing praise with my spirit, but I will sing with my mind also" (1 Cor 14:15). The author of Hebrews wrote, "I will tell of your name to my brothers; in the midst of the congregation I will sing your praise" (Heb 2:12), so part of our praising Him is to instruct the congregation about how great our God is…how awesome He is, so we agree with the psalmist who wrote, "Sing praises to God, sing praises! Sing praises to our King, sing praises! For God is the King of all the earth; sing praises with a psalm" (Psalm 47:6-7). When God's Spirit brings us to Christ, we rejoice over our salvation, and suddenly, God can "put a new song in my mouth, a song of praise to our God. Many will see and fear, and put their trust in the Lord" (Psalm 40:3). I've actually heard worship leaders and singers and songwriters say just that: "God put a new song in my mouth." In other words, God inspired them to write their song so that we might better praise God and worship Him.
Rejoicing
Isaiah the Prophet wrote as if the creation itself glorified God, and it does. He wrote, "Sing, O heavens, for the LORD has done it; shout, O depths of the earth; break forth into singing, O mountains, O forest, and every tree in it! For the LORD has redeemed Jacob, and will be glorified in Israel" (Isaiah 44:23). It's not just the earth that glorifies God but "The heavens declare the glory of God and the sky above proclaims his handiwork" (Psalm 19:1). But what about those who are suffering on earth? How can they rejoice when they are in such great sorrow, sickness or even in prison? When Paul and Silas were arrested, they had no idea whether they'd be killed, flogged, or released, but their joy in the Lord wasn't dependent upon where they were. Their joy was placed in the Lord and not in the things of this world or circumstances of life, so it's not surprising that "About midnight Paul and Silas were praying and singing hymns to God, and the prisoners were listening to them" (Acts 16:25). That's probably the first time anyone in prison ever heard fellow prisoners singing and praising God in prison, while still being held in prison. They might have heard a few sing after they were released, but during their time in prison? But they could and they did because they trusted in Him who they were praising!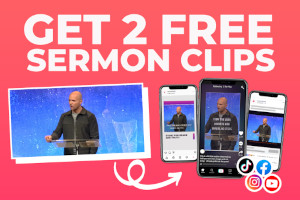 Singing to Him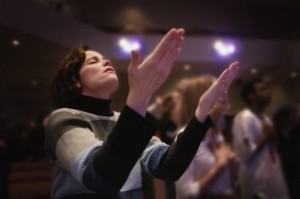 If you know of a worship leader who might appreciate reading this, please share it with them so that they can better understand their role as a worship leader, and be biblical in their service. We know we must "Sing praises to the Lord, O you his saints, and give thanks to his holy name" (Psalm 30:4), and to be "singing psalms and hymns and spiritual songs, with thankfulness in your hearts to God" (Col 3:16b). We are admonished to "be filled with the Spirit, addressing one another in psalms and hymns and spiritual songs, singing and making melody to the Lord with your heart" (Eph 5:18b-19).
Conclusion
Worship music even has an evangelistic reason to it, and it is "in order that the Gentiles might glorify God for his mercy. As it is written, Therefore I will praise you among the Gentiles, and sing to your name" (Rom 15:9). The worship music prepares our hearts and our minds to be receptive to the preaching of the Word. Worship music allows us to praise God and worship Him in song and in word. Worship music helps us when we're suffering or in a hard place, and worship music can even be sung for the "Gentiles" in order that they too "might glorify God for his mercy." Those are plenty of good reasons to worship God in song and with great joy. He deserves all honor, all of our praise, and all for His glory, so express it vocally and joyfully. We ought to be the happiest people on the planet because "This is the day that the LORD has made; let us rejoice and be glad in it" (Psalm 118:24).
Here is some related reading for you: 7 Tips for Leading Worship Music at a Church Service
Resource – Scripture quotations are from The Holy Bible, English Standard Version® (ESV®), Crossway Bibles. (2007). ESV: Study Bible: English standard version. Wheaton, Ill: Crossway Bibles. Used by permission. All rights reserved.