When you think of Silas from the Bible, what is the first Bible story that comes to mind? For me it is when he and Paul were beaten and thrown into jail for preaching Jesus. The account goes on to say that at midnight they were praying in the prison cell and singing praises unto God and all the prisoners heard them. What a testimony! Here is the full account:
Acts 16:19–40 And when her masters saw that the hope of their gains was gone, they caught Paul and Silas, and drew them into the marketplace unto the rulers, And brought them to the magistrates, saying, These men, being Jews, do exceedingly trouble our city, And teach customs, which are not lawful for us to receive, neither to observe, being Romans. And the multitude rose up together against them: and the magistrates rent off their clothes, and commanded to beat them. And when they had laid many stripes upon them, they cast them into prison, charging the jailor to keep them safely: Who, having received such a charge, thrust them into the inner prison, and made their feet fast in the stocks. And at midnight Paul and Silas prayed, and sang praises unto God: and the prisoners heard them. And suddenly there was a great earthquake, so that the foundations of the prison were shaken: and immediately all the doors were opened, and every one's bands were loosed. And the keeper of the prison awaking out of his sleep, and seeing the prison doors open, he drew out his sword, and would have killed himself, supposing that the prisoners had been fled. But Paul cried with a loud voice, saying, Do thyself no harm: for we are all here. Then he called for a light, and sprang in, and came trembling, and fell down before Paul and Silas, And brought them out, and said, Sirs, what must I do to be saved? And they said, Believe on the Lord Jesus Christ, and thou shalt be saved, and thy house. And they spake unto him the word of the Lord, and to all that were in his house. And he took them the same hour of the night, and washed their stripes; and was baptized, he and all his, straightway. And when he had brought them into his house, he set meat before them, and rejoiced, believing in God with all his house. And when it was day, the magistrates sent the serjeants, saying, Let those men go. And the keeper of the prison told this saying to Paul, The magistrates have sent to let you go: now therefore depart, and go in peace. But Paul said unto them, They have beaten us openly uncondemned, being Romans, and have cast us into prison; and now do they thrust us out privily? nay verily; but let them come themselves and fetch us out. And the serjeants told these words unto the magistrates: and they feared, when they heard that they were Romans. And they came and besought them, and brought them out, and desired them to depart out of the city. And they went out of the prison, and entered into the house of Lydia: and when they had seen the brethren, they comforted them, and departed. (Acts 16:19-40)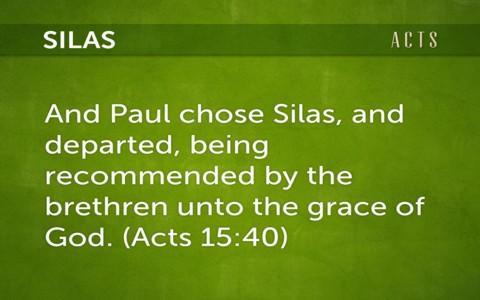 That account mentioned in Acts 16 is probably what Silas was most remembered for, but did you know that he contributed much to the cause of Christ and was an active participant and leader not only in the Church but also on Paul's second missionary journey (49-52 A.D.)? That journey went through modern-day Turkey starting in Antioch on through Greece and then home.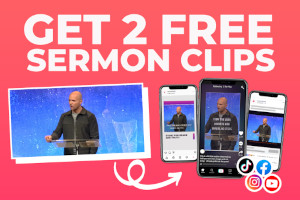 Here are some of the highlights that we find in the Bible about Silas.
Paul Chooses Silas to Travel with Him
Read Acts 15:22-40. We first are introduced to Silas in Acts chapter 15 where we learn that he is one of the "chief among the brethren" (a leader in the church). It is here that we learn that he was also one of the "chosen men" to go to the Gentile Christians in Antioch and Syria and Cilicia to speak about how the Law of Moses was not to be observed by the Gentile Christians. Silas, along with Judas Barsabas, was to take this message as a way to back up what Paul and Barnabas had previously told them. The people heard the words of Silas and Judas and then peacefully let them go back to the apostles, however Silas remained with Paul and Barnabas to teach and preach the word of the Lord.
Not many days later Paul suggested to Barnabas that they go revisit all of the churches that they had planted during Paul's first missionary journey to see how they were doing. At this time Barnabas wanted to take his cousin John Mark along as well but Paul was opposed to this because John Mark had abandoned them when they were in Pamphylia (Acts 13:17). Apparently Paul and Barnabas had such a huge argument about it that Paul decided to take Silas with him while Barnabas took John Mark and went on a separate journey. And so began Paul's Second Missionary Journey with his companion Silas.
Silas Contributes of the Conversion of Many
During the missionary journey when Silas went with Paul, we can see several people mentioned in the Bible that came to know Christ, including:
Achaicus (1 Cor 16:17)
Chloe (1 Cor 1:11)
Crispus (Acts 18:8)
Erastus (Rom 16:23)
Fortunatus (1 Cor 16:17)
Gaius (1 Cor 1:14)
Phoebe (Rom 16:1)
Quartus (Rom 16:23)
Sosthenes (1 Cor 1:1)
Stephanas (1 Cor 16:15)
Tertius (Rom 16:22)
The Jailer (Acts 16:30-31)
Other mentions of Silas (Silvanus)
Fruit in a Riotous Time
Acts 17:9–13  And when they had taken security of Jason, and of the other, they let them go. And the brethren immediately sent away Paul and Silas by night unto Berea: who coming thither went into the synagogue of the Jews. These were more noble than those in Thessalonica, in that they received the word with all readiness of mind, and searched the scriptures daily, whether those things were so. Therefore many of them believed; also of honourable women which were Greeks, and of men, not a few. But when the Jews of Thessalonica had knowledge that the word of God was preached of Paul at Berea, they came thither also, and stirred up the people.
Mentioned by Paul
2 Corinthians 1:19  For the Son of God, Jesus Christ, who was preached among you by us, even by me and Silvanus and Timotheus, was not yea and nay, but in him was yea.
1 Thessalonians 1:1  PAUL, and Silvanus, and Timotheus, unto the church of the Thessalonians which is in God the Father and in the Lord Jesus Christ: Grace be unto you, and peace, from God our Father, and the Lord Jesus Christ.
2 Thessalonians 1:1  PAUL, and Silvanus, and Timotheus, unto the church of the Thessalonians in God our Father and the Lord Jesus Christ:
Deliverer of Peters Letter to the Church at Asia Minor
1 Peter 5:9–13  Whom resist stedfast in the faith, knowing that the same afflictions are accomplished in your brethren that are in the world. But the God of all grace, who hath called us unto his eternal glory by Christ Jesus, after that ye have suffered a while, make you perfect, stablish, strengthen, settle you. To him be glory and dominion for ever and ever. Amen. By Silvanus, a faithful brother unto you, as I suppose, I have written briefly, exhorting, and testifying that this is the true grace of God wherein ye stand. The church that is at Babylon, elected together with you, saluteth you; and so doth Marcus my son.
Final Thoughts
Silas was indeed a leader and a brave man. He was a man who served the Lord with the gifts he had been given. The apostles loved and supported him and called him "faithful". He "exhorted" (strongly encouraged) his brothers to do right (Acts 15:32). His enthusiasm allowed him to spend extra time in Corinth, even after Paul left that city. He must have been a great companion!
More for you to read: What Were Paul's Missionary Journeys?
Resource – Scripture quotations are from The Holy Bible, King James Version. Photo rendered from Logos Bible Software 6.0 Visual Copy.