I know I speak for many Pastors when I say that one of the things we appreciate the most is when a faithful servant of the Lord serves in the nursery, in children's church, or other capacity during the worship services. However, because of their dedication, many may go months without hearing any preaching. You can imagine my surprise when I discovered in Biblical counseling that many of these same faithful servants are struggling with severe life issues and have a very shallow knowledge of the Scriptures. This leads us to ask, is hearing preaching or sermons essential to Spiritual maturity?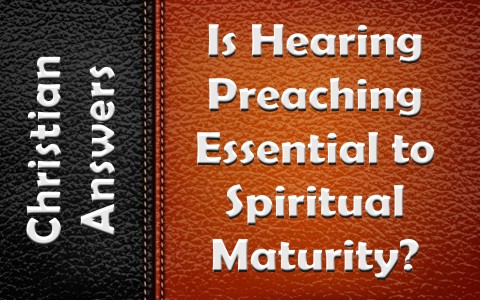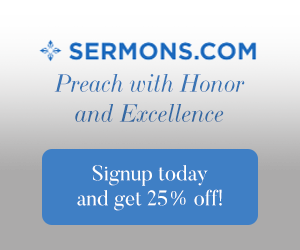 What is Spiritual maturity?
Spiritual maturity is the process by which a believer grows in wisdom and understanding of Biblical teaching in such a way that it changes them to be more like Christ. The Bible speaks of this concept of growing or maturing in many places as follows:
Blessed is the man that walketh not in the counsel of the ungodly, nor standeth in the way of sinners, nor sitteth in the seat of the scornful. But his delight is in the law of the LORD; and in his law doth he meditate day and night. And he shall be like a tree planted by the rivers of water, that bringeth forth his fruit in his season; his leaf also shall not wither; and whatsoever he doeth shall prosper. (Psalms 1:1-3)

The proverbs of Solomon the son of David, king of Israel; To know wisdom and instruction; to perceive the words of understanding; To receive the instruction of wisdom, justice, and judgment, and equity; To give subtilty to the simple, to the young man knowledge and discretion. A wise man will hear, and will increase learning; and a man of understanding shall attain unto wise counsels: To understand a proverb, and the interpretation; the words of the wise, and their dark sayings. (Proverbs 1:1-6)

Wherefore laying aside all malice, and all guile, and hypocrisies, and envies, and all evil speakings, As newborn babes, desire the sincere milk of the word, that ye may grow thereby: If so be ye have tasted that the Lord is gracious. (1 Peter 2:1-3)

And he gave some, apostles; and some, prophets; and some, evangelists; and some, pastors and teachers; For the perfecting of the saints, for the work of the ministry, for the edifying of the body of Christ: Till we all come in the unity of the faith, and of the knowledge of the Son of God, unto a perfect man, unto the measure of the stature of the fulness of Christ: That we henceforth be no more children, tossed to and fro, and carried about with every wind of doctrine, by the sleight of men, and cunning craftiness, whereby they lie in wait to deceive; But speaking the truth in love, may grow up into him in all things, which is the head, even Christ: From whom the whole body fitly joined together and compacted by that which every joint supplieth, according to the effectual working in the measure of every part, maketh increase of the body unto the edifying of itself in love. (Ephesians 4:11-16)
We can see from these verses that there is a common theme of learning that results in physical, Spiritual, mental, and social maturity. This is the same way that Jesus grew while He walked this earth (Luke 2:40-52; Hebrews 2:14-18; Hebrews 5:1-8). However, as we grow spiritually, we grow to be conformed to the image of Christ. This means we become more like Him (Romans 8:28-29; Romans 12:1-2; 2 Corinthians 3:17-18; Ephesians 4:11-16; Colossians 3:1-17).
How do we become spiritually mature?
In order to become spiritually mature there must be a teacher so that we can learn. As Christians, we have the Holy Spirit in us that teaches us (John 14:23-26; John 16:7-15; John 16:7-15). The Holy Spirit gives us the ability to understand what we are learning in ways that an unbeliever cannot understand (1 Corinthians 2: 9-16). We received the Holy Spirit the moment we trust Christ as our Savior (2 Corinthians 1:21-22; Ephesians 1:9-14; Hebrews 10:14-15).
In addition to the Holy Spirit, God has given us teachers to teach us so that we can mature Spiritually and teach others also (Galatians 6:1-6; Ephesians 4:11-16; 1 Timothy 4; 2 Timothy 2:1-2; 2 Timothy 3:10-17). When we hear what is being taught, it has the effect of increasing our faith (Romans 10:13-17; 2 Timothy 3:14-15). Through our faith, God saves us and matures us (Ephesians 2:8-22; Hebrews 11:1-6; Hebrews 12:1-2; 1 Peter 4:1-6; 2 Peter 1:1-10).
Is preaching or hearing sermons important?
Many people think that they can learn on their own through studies or books. While they may make good progress, God considers preaching to be very important. He gave the church evangelists, pastors, and teachers. Likewise, he made the gift of preaching and teaching a requirement to be a bishop or pastor (1 Timothy 3:2; Titus 1:7-9).
A gifted preacher or evangelist can preach the Word of God in a way that takes the truth of God's Word and shows how it applies to our lives in logical and practical ways that creates positive results. This is because God's Word has a supernatural power and effect that never fails to produce results (Isaiah 55:10-11; 2 Timothy 3:14-17; Hebrews 4:12).
Peter's sermon on the day of Pentecost resulted in 3000 people trusting Christ as their Savior (Acts 2:14-41). Likewise, his preaching at the house of the Gentile Cornelius resulted in everyone who heard the Word being saved (Acts 11:34-48). Barnabas and Paul's preaching in Antioch and other locations around the Mediterranean Sea resulted in thousands being saved and churches established. Philip's preaching to an Ethiopian Eunuch who was a servant of Queen Candace of Ethiopia resulted in the Eunuch's salvation and baptism, after which the Eunuch went on his way rejoicing to others about his salvation (Acts 9:26-40).
Without preaching and sermons, the Word of God is not able to be delivered in a way that reaches the masses with the message of salvation through faith in Christ. Without preaching or sermons, the Word of God is not able to be shared with the masses in a way that incorporates what God's Word says about popular topics or current events. Finally, without preaching or sermons, those dedicated staff members who serve during the worship services will not have the benefit of maturing spiritually so that they can effectively teach and minister to others while they serve as an example of a spiritually mature Christian.
Conclusion
Spiritual maturity is the process by which a believer grows in wisdom and understanding of Biblical teaching in such a way that it changes them to be more like Christ. To be spiritually mature, one must have the Holy Spirit living in them through salvation by grace through faith. They also need a steady diet of teaching from God's Word from those who have been trained in the doctrinal truths and application of Scripture. This is done through preaching and teaching the Word of God, which makes preaching and sermons essential to Spiritual maturity.
Some more reading that you might enjoy: How to Prepare a Sermon
Resources – Scripture quotations are from The Holy Bible, King James Version