Is it even possible to praise God in the middle of a storm? I believe it is, and here's how.
Even When it Hurts
Is it even possible to praise God in the middle of a storm? From my own personal experience, this is one of the hardest things I've ever done in my life; praise God and worship Him after an answer to my prayer was "No." I had thought this was the dream church; the one that my wife and I had been waiting for, but the church chose the other pastor. And I lived just down the highway a bit! It seemed perfect, but in my pain, I would go outside at night and look up at the stars, toward heaven, and start praising Him for His answer, even if it was "No." I trust Him to do what is best for me and I know He wants to keep me from hurting myself, and that's what that would have happened if God had answered with a "Yes." A little more than a year later, someone in the church contacted me to see if I could be their pastor as the other pastor was leaving. I said "No" at first because I had to pray about it and speak to my wife about it. God did answer my prayer, but in His time, not mine. I praise Him for that…but even when it hurts, I praise Him in the storm. I know Him and He has a purpose in it. I don't know what that purpose is; but He does, and that's enough for me. I can rest in that.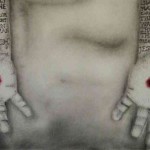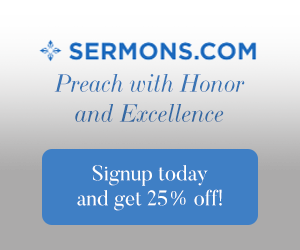 Tomorrow's in His Hands
I think it best not to make vows before God because we might not be able to keep them. Wedding vows are not what we're talking about here, but we must be cautious if we plan to make a vow before God (Eccl 5:4). James suggests it is best not to boast about tomorrow and make promises that we might not be able to keep. In the Old Testament, God was very pleased when people made vows, even if it turned out to be bad. By their keeping their vow before God; sometimes they paid dearly. What is comforting is to us (or should be) is God is omniscient and already knows what tomorrow holds. We can't even predict what will happen in the next five minutes, but God knows the end from the beginning. He knows all that is yet to happen, even thousands of years before it does. Why? He holds tomorrow in His sovereign hands and He holds you too with His embrace of grace.
Never Forsaken
If your issue is money, here is the best advice there is: "Keep your life free from love of money, and be content with what you have, for he has said, "I will never leave you nor forsake you" (Heb 13:5). What a promise! Our money might forsake us, but God!? Never! I heard one preacher say, "Money talks. Mostly it says, 'Bye Bye,'" so Paul asks the rhetorical question (which is an obvious "Yes!"): "If God is for us, who can be against us" (Rom 8:31b)? I did the math and I came up with zero. Remember what Martin Luther said; "God plus one is always a majority." If money takes over our heart, we will never have peace or be content, but if we see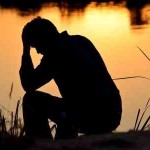 k Christ and His righteousness first, God promises to take care of everything we cannot take care of (Matt 6:33).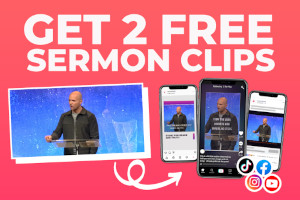 Feel far from God?
God would not call you into His family to leave you destitute. You are now part of His family; part of the family of God. Listen to the tenderness of the Apostle's John's words from God: "Beloved, we are God's children now, and what we will be has not yet appeared; but we know that when he appears we shall be like him, because we shall see him as he is" (1 John 3:2). God is infinitely the best Father ever, so why do so many feel God has forsaken them? If God feels far apart, who moved? It wasn't God. I can't find the Scriptures where God says, "I'll save you but might forsake you." I can't find a Bible with that idea because it's not in the Scriptures. During a severe trial or storm in life, we must utterly depend on and trust God and rest upon all His great and precious promises (2 Pet 1:4). We cannot rely on what we "feel." Feelings are the shallowest part of human wisdom. Feelings and facts are not the same thing at all!
Cry Out to Him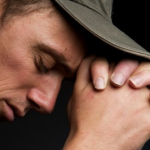 If you feel you're not going to make it through this storm in life, the best place to run to is your Father in prayer and pray back His Word (like in the Psalms). Like any father should, he is ready to take you into his arms and shield you from all harm, but even more so with our Heavenly Father Who is a strong fortress in times of trouble. He is a fortress that cannot be moved, so cry out to Him and pray back His Word to Him and plead with Him, "Be merciful to me, O God, be merciful to me, for in you my soul takes refuge; in the shadow of your wings I will take refuge, till the storms of destruction pass by" (Psalm 57:1).
Creator of the Storm
Remember when Jesus calmed the storm and His disciples were amazed? They had thought they were going to sink and drown, but Jesus, knowing all things, allowed the storm to teach them a lesson, and that lesson was that "he commanded and raised the stormy wind, which lifted up the waves of the sea" (Psalm 107:25), just as in Moses' day. Since He is the Creator, the storm must cease and desist and lie still. The raging seas must turn calm, for they are at the command of their Creator. God is sovereign over the storm in your life right now. God is perhaps building perseverance in you (James 1). A faith that's not been tested is a faith that can't be trusted. You test drive cars, so shouldn't our faith be tested; tested to prove its genuine. He is Lord of the storms; on land and on sea, and He is Lord of the storms in your life. He has His steady hand on the rudder.
Conclusion
It's hard to trust God when you're in the darkest part of a storm, but knowing that He is the Creator of the storm, the storm must obey it's Master. We can take comfort in the fact that God has not abandoned us. God has no orphans. He ensures their being preserved into the Kingdom, for "God did not send his Son into the world to condemn the world, but in order that the world might be saved through him" (John 3:17). One promise is  that "When you pass through the waters, I will be with you; and through the rivers, they shall not overwhelm you; when you walk through fire you shall not be burned, and the flame shall not consume you" (Isaiah 43:2). What a powerful promise!
The best way to reinforce your "storm shelter" is to be in the Word of God and praying through to Son of God to our Father, God, However, it is important to remember there are two sides to the gospel, for Jesus said, "Whoever believes in him is not condemned, but whoever does not believe is condemned already, because he has not believed in the name of the only Son of God" (John 3:18). Choose today (2 Cor 6:2), for tomorrow it may be too late (Rev 20:12-15).
Here is some related reading for you: 6 Ways to Praise God During Hard Times
Resource – Scripture quotations are from The Holy Bible, English Standard Version® (ESV®), Crossway Bibles. (2007). ESV: Study Bible: English standard version. Wheaton, Ill: Crossway Bibles. Used by permission. All rights reserved.