The technology exists today to give you short, precise sermon clips that quickly sum up the pastor's sermon and it's called Sermon Shots.
Missed It!
Have you ever heard a sermon at church and thought, "Wow," that was a powerful message? You then scramble to write down a point the pastor said, but you missed it. Happens to me all the time. I never seem to write as fast as the pastor speaks.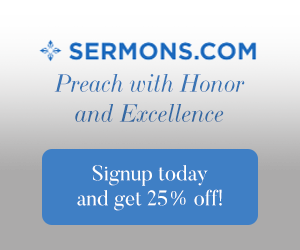 Thanks to technology, many churches live stream their services to various social media channels, my church included. I reviewed one of my pastor's sermons via YouTube. Technology made the sermon accessible, but the specific message was difficult to find. I spent nearly an hour spot reviewing the video. You know, I was fast-forwarding to the point I thought the message was and backtracking because I missed it. It was an exhausting task. Truth be told, I gave up, never finding the clip I sought.
The endeavor got me to thinking. There has got to be an easier way to grab sermon clips. Why don't pastors have the technology to post powerful messages in small snippet formats? Well, turns out they can with an online application called Sermon Shots. The website claimed you could make a Sermon Shot, aka sermon clips, in less than five minutes.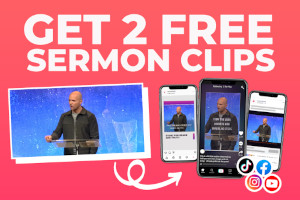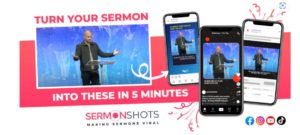 What is a Sermon Shot?
Before I get too excited sharing about the tool, you may wonder what a sermon shot really is and why it is so good. Bottom line, the application helps anyone at any skill level create great quality sermon clips and recaps utilizing some powerful technology in a unique way.
You don't have to be a computer expert or hold a degree in technology to use this powerful tool and what a powerful tool it is for pastors who want to share a relevant message, in a short snippet format, on various social media channels. The best part is they could ditch the video editing tools that take hours to make clips that with Sermon Shots take mere minutes. Imagine the reach a pastor could have beyond their local church. As Jesus showed, you reach the people where they are; today, we know many are online.
Does it Work as Stated? YES!
Okay, I don't know about you, but I have fallen prey to promises by applications claiming they could make my life easier. So, I put Sermon Shots to the test, and friends they passed with flying colors! The application really allows you to create a Sermon Shot in five minutes or less. My test involved using two sermons from pastors I know. The first sermon was from Pastor Josh Childress at Kempsville Christian Church in Virginia Beach, Virginia. The second sermon was from Pastor Adam McManus at Celebration Christian Church in Suffolk, Virginia.
Here is a quick explanation, step by step, of how I did it.
Steps to Making a Sermon Shot in Minutes
Example 1: Pastor Josh Childress
Step 1: Upload a sermon
I clicked the "upload from YouTube" button on the top right, pasted in the YouTube URL from Pastor Childress' sermon, and hit "submit." You can also upload a video from your computer too.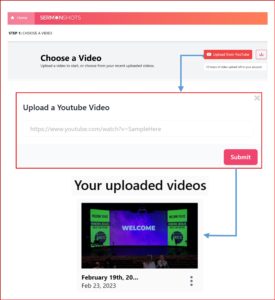 Step 2: Choose a Template
I then chose a template from a lot of different options. You can find templates for Instagram and Facebook reels, YouTube Shorts, and TikToks. You can filter by size in either square, vertical, or horizontal formats. After selecting your template, hit "next" in the top right corner.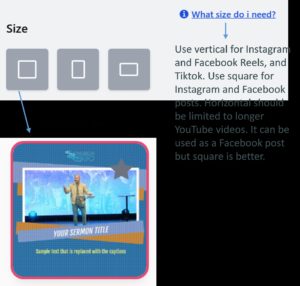 Step 3: Choose a Clippable Moment (Search Functionality)
This step is what makes Sermon Shots so quick and easy to use. The entire sermon has been transcribed on the left, making your sermon searchable like a word document. Use the search bar at the top left to find what you are looking for.
As you can see, I chose the keyword Tongue. I was looking for all the times Pastor Josh mentioned the tongue in his sermon, i.e., taming the tongue. I then selected the green plus sign icon, which I circled in blue for every instance in the message that I wanted to include in my sermon shot.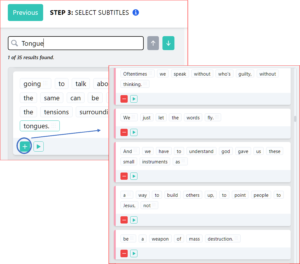 Step 4: Edit Video
In this step, I got to add a title to my sermon clip, include a logo, select a font, choose music, and adjust the volume of the video. Here we also get to watch the video we created and download it for posting on our social media channel of choice, i.e., YouTube, Facebook, Instagram, and others.
To see this finished  video, click here.
After I finished the first Sermon Clip, I started the process again. Since I had learned how the application works, I flew right through the steps this time.
Example 2: Adam McManus, Celebration Christian Church
Step 1: Upload the Video.
I followed the same process as in the first example. Once I selected the video from YouTube, I could quickly move on to step 2.
Step 2: Choose a Template.
I chose a different template for Pastor McManus's Sermon Shot to determine if the process would be as quick and easy. I am happy to report that it was even faster.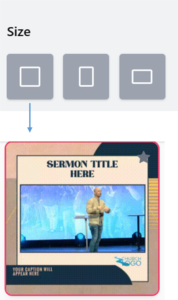 To see the finished video, click here.
Step 3: Select Subtitles
I found the messaging I wanted to use as I did in the previous example and selected them all. No issues arose.
Step 4: Edit Video
As with the previous Sermon Shot, I added my title, and music, and adjusted the video. The final result was terrific.
Final Thoughts
In the world we live in today, technology has changed the way we receive information. Sermon Shots gives Pastors the ability to help convey the right information, God's truth, in a manner that makes it easy for people to grab and share. I will definitely be sharing this tool with the pastors I know.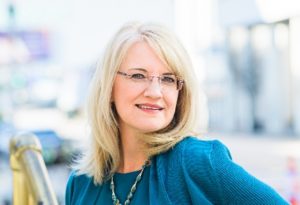 Article by Dr. Jeannine Bennett:  I am a self-published author who writes both Christian Bible studies and career-centered self-help books. You can find my books on Amazon, Barnes & Noble, Goodreads, BookBub, and several other sites.
I currently split my time between my Christian career coaching business Vision to Purpose, teaching gigs, and my writing adventures. I have helped hundreds of individuals find their dream jobs, thousands of students through their college courses, and have written four books to date.
Please visit me at jeanninebennett.com. Check out my books, review some podcasts, sign up for my newsletter and get my first e-book for free.
Here is some related reading for you: 4 Technology Mistakes Your Church Might Be Making