How can we keep calm when we're faced with huge trials in life?
Get in the Word
Everyone goes through trials in life. The only question is, "How do we respond to them?" The Bible is the best place to start when seeking godly wisdom about things like avoiding sin, loving others, and how to respond when faced with trials and tribulations. One of the strangest responses to facing trials is to rejoice. Another is that trials are common to all of mankind, but one thing we know for sure: People have either just gone through a trial, they are in the midst of one now, or they're getting ready to face one. While we cannot change some of the circumstances in our life, we can change how we respond to them, but we need the help of Jesus Christ Himself (Phil 4:13), without Whom, we could do nothing (John 15:5). Having a biblical view of life helps give us perspective when we face trials. The Word of God helps us look at life through the lens of eternity. Even though we know this is not our final destination, trials can make us look ahead to a time when God promised that "He will wipe away every tear from their eyes, and death shall be no more, neither shall there be mourning, nor crying, nor pain anymore, for the former things have passed away" (Rev 21:4). I am really looking forward to that! How about you?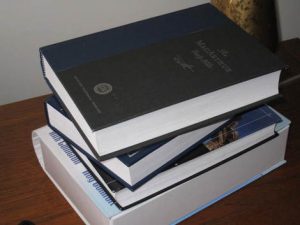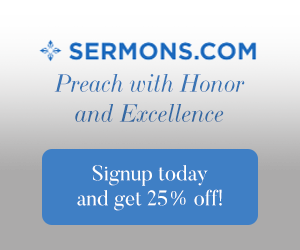 An Eternal Perspective
When we're suffering, time seems to creep along, but the Apostle Peter lets us know the true perspective of things, writing that "after you have suffered a little while, the God of all grace, who has called you to his eternal glory in Christ, will himself restore, confirm, strengthen, and establish you" (1 Pet 5:10). It really is "a little while" compared to eternity. Today's trial is incomparable because "the sufferings of this present time are not worth comparing with the glory that is to be revealed to us" (Rom 8:18). James 1:12 says, "Blessed is the man who remains steadfast under trial, for when he has stood the test he will receive the crown of life, which God has promised to those who love him." Knowing you have the crown of life waiting for you after death or at Jesus' appearance, doesn't that give you a perspective that goes beyond "today?" Today is like a vapor, but eternity is a very, very, very long time. Thinking about spending eternity with Christ, we can truly "Rejoice in hope, be patient in tribulation, be constant in prayer" (Rom 12:12). At the least, it helps a lot!
Common to Mankind
First Corinthians 10:13 educates us all about trials and temptations. There, the Apostle Paul says, "No temptation has overtaken you that is not common to man. God is faithful, and he will not let you be tempted beyond your ability, but with the temptation he will also provide the way of escape, that you may be able to endure it" (1 Cor 10:13). We all suffer from trials, even those of our own making…but we can also be delivered from them. Trials may come and trials may go, but God will provide a way out; that is, if you're looking for it. Even if that doesn't happen right away, we can still "rejoice in our sufferings, knowing that suffering produces endurance" (Rom 5:3). Believe me, the early church members would not have been shocked to learn that some of their fellow brothers and sisters had been persecuted. The real surprise would've been if they'd never suffered persecution or went through a trial. The Apostle Peter tells us to "not be surprised at the fiery trial when it comes upon you to test you, as though something strange were happening to you" (1 Pet 4:12). These things might be a curveball to us, but to God, they are all within His sovereign work in our lives. Everything that happens passes through the nailed-pierced hands of Christ.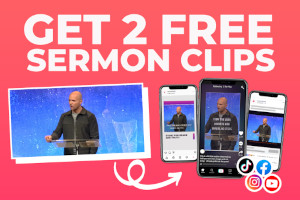 The Peace of God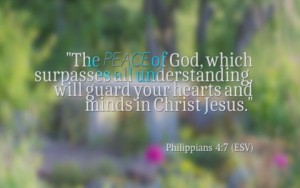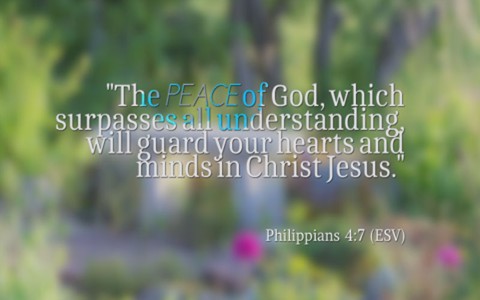 The disciples were troubled about Jesus telling them He was going away, so the Lord tries to give them peace about it, telling them He will come again (John 14:3, 28). It's not just peace of mind, but the peace of Jesus Christ Himself. He told them "that in me you may have peace. In the world you will have tribulation. But take heart; I have overcome the world" (John 16:33). It's more than just a peaceful, easy feeling. The peace of God goes beyond our human understanding, but it does guard our hearts and our minds (Phil 4:7).  Jesus told His troubled disciples, "Peace I leave with you; my peace I give you" (John 14:27a). Not just "a" peace, but His peace! Having Jesus' very own peace, no matter what happens, "we know that for those who love God all things work together for good, for those who are called according to his purpose" (Rom 8:28). We are not crushed or broken by trials, but rather, we "rejoice, though now for a little while, if necessary, you have been grieved by various trials, so that the tested genuineness of your faith—more precious than gold that perishes though it is tested by fire—may be found to result in praise and glory and honor at the revelation of Jesus Christ" (1 Pet 1:6-7). Want to add it all up? James says, "Count it all joy, my brothers, when you meet trials of various kinds, for you know that the testing of your faith produces steadfastness. And let steadfastness have its full effect, that you may be perfect and complete, lacking in nothing" (James 1:2-4). The sum total is that we'll lack nothing that we really need, and the trial helps us to be made perfect and complete. This doesn't mean sinless perfection…but it should mean we should sin less over time.
Conclusion
The more you are into the Word of God, the more the Word of God gets into you, so there is no reason to be "be anxious about anything, but in everything by prayer and supplication with thanksgiving let your requests be made known to God. And the peace of God, which surpasses all understanding, will guard your hearts and your minds in Christ Jesus" (Phil 4:6-7). If you're going through a trial right now, or you know of someone who is, please share this with them, or anyone who's facing a trial. It just might help them (or you) endure the trials of today, by thinking about tomorrow.
Here is some related reading for you: Bible Verses About Trials: 20 Scriptures on Tribulations
Resource – Scripture quotations are from The Holy Bible, English Standard Version® (ESV®), Crossway Bibles. (2007). ESV: Study Bible: English standard version. Wheaton, Ill: Crossway Bibles. Used by permission. All rights reserved.