There is no doubt that we're living in troubled times and there's a lot of anxiety about the future, so here are 7 Bible verses that you can lean on to put your mind at ease.
When you find yourself in a situation that seems impossible to get out of, I suggest you run to the Word of God.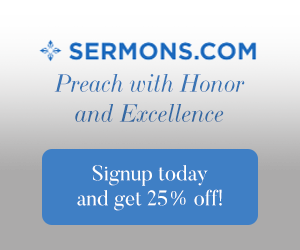 Second Timothy 3:1 But understand this, that in the last days there will come times of difficulty.
In the Apostle Paul's very last letter before his death, he warned Timothy that times of difficulty will come in the last days. Actually, this verse sounds like Paul could have written it today! That's because we are in a great time of difficulty, and we know things are going to grow worse as Jesus' second coming nears. We shouldn't be surprised because God's warned us about it, but this doesn't mean we have to live in fear. God knew this was coming and knows what's coming tomorrow. Our job is to trust Him with it. If we're only looking at our own resources, no doubt we'll be anxious, but those who trust in God can pillow their heads at night and have peace of mind.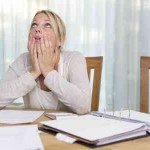 Psalm 91:15-16 When he calls to me, I will answer him; I will be with him in trouble; I will rescue him and honor him. With long life I will satisfy him and show him my salvation.
Have you ever noticed that when we're really desperate, we suddenly become prayer warriors? And suddenly, the things of the world seem less important to us when our finances, our health, or a relationship is endangered. These are exactly the times when we must run to the Word of God and find our solace there. God promises to answer us in our times of need. Not only will He be with us in times of trouble, God alone is the only One Who can rescue us from our calamities.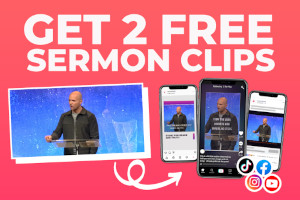 Second Timothy 1:7 For God gave us a spirit not of fear but of power and love and self-control.
Because of Jesus Christ, our condemnation has been lifted (Rom 8:1), and now we're at peace with God (Rom 5:1), but we cannot have the peace of God until we've made peace with God. Once we've done that, we have no reason to fear. Trust in God's sovereignty and not in what you see around you. Like Peter, if we take our eyes off Jesus, we'll start to sink into the depths of doubt.
Psalm 112:7 He is not afraid of bad news; his heart is firm, trusting in the Lord.
I want to know who the psalmist is writing about. Back up one verse, and we'll see. The psalmist says that "the righteous will never be moved; he will be remembered forever" (Psalm 112:6), but if you've never trusted in Jesus Christ, you have every reason to fear. For one thing, outside of faith in Christ, you will be judged after death (Heb 9:27), however, if you've been brought to repentance and faith in Christ, God now sees you has having Jesus' own righteousness (2 Cor 5:21). Now, you have no reason to fear bad news because you firmly trust in the Lord.
Luke 21:26 People fainting with fear and with foreboding of what is coming on the world. For the powers of the heavens will be shaken.
Jesus prophesied a time when people would faint with fear and dread with what's going on in the world. Even the heavens and stars are affected in the times preceding Jesus' return. Those who won't be quaking with fear will be those who trust in God. They don't trust what they see as much as trust in the unseen God. Their faith is fortified in times like these because they rest in the absolute sovereignty of God. We can too.
John 14:1 Let not your hearts be troubled. Believe in God; believe also in me.
Before Jesus went to the cross and later return to the Father, the disciples were troubled. They had no idea how they'd make it without Jesus, and I don't really blame them because Jesus was all they knew for those three plus years, so Jesus calmly reassures them that they have no reason to fear or have troubled hearts. Why? It's because they believed in Jesus. Believing in Jesus means more than believing He exists…it means believing in His promises and obeying His Word. If we truly believe in the omnipotent God, why would we fear anything?
First Peter 5:7 Casting all your anxieties on him, because he cares for you.
If you won't be casting your anxieties, you will be carrying them, so don't carry a burden around that you were never created to carry alone. The Lord our God, Jesus Christ, says to all who are trying to carry on by their own arm of the flesh, "Come to me, all who labor and are heavy laden, and I will give you rest" (Matt 11:28). When you come to Him, He says, "take my yoke upon you, and learn from me, for I am gentle and lowly in heart, and you will find rest for your souls" (Matt 11:29). A yoke is a device where the weight could be shared between two or more oxen or horses. The Lord is telling us that it's futile trying to carry your own loads. The weight you and I are carrying around is too much for us, so why not come to the Lord. He says that "my yoke is easy, and my burden is light" (Matt 11:30). Without Him, our burdens are too heavy and the weight is too much, so cast all of your anxieties upon Him because you must know in your heart, "he cares for you."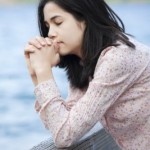 Conclusion
Right now, the world's condition is perilous, at best, so when there are times of great uncertainly, like there is today, we can always be certain about one thing. The Lord is still with us and for us. I've seen, time after time where the "poor man cried, and the Lord heard him and saved him out of all his troubles" (Psalm 34:6). God does not forsake us when times get tough, but rather, we can run to him in prayer and have absolute assurance that "The Lord is good, a stronghold in the day of trouble; he knows those who take refuge in him" (Nah 1:7). If you've never trusted in Christ, you can only flee to a human source, but that's building your life on sand. Trust in the Lord God, so when the vicious storms come, and they are coming, you're anchored to the Lord God. He alone is the Rock in whom we can trust….and the Word of God says, those who trust in Him shall never be put to shame (Psalm 25:3; Isaiah 45:17; Rom 10:11).
Here is some related reading for you: 7 Best Bible Verses When Facing Financial Troubles
Resource – Scripture quotations are from The Holy Bible, English Standard Version® (ESV®), Crossway Bibles. (2007). ESV: Study Bible: English standard version. Wheaton, Ill: Crossway Bibles. Used by permission. All rights reserved.