The book, 30 Days to Understanding the Bible by Dr. Max Anders, will do just what the title says; help you understand the Bible better, and do it in only 30 days.
Why the Book?
Knowing Dr. Anders' background, and the fact that he was originally part of the series, Walk Through the Bible Ministries, I already have more trust in reading this book. Knowing that the Bible is so deep that there is always room for us to grow, I believe 30 Days to Understanding the Bible by Dr. Max Anders will help you do just that. This book is a straightforward, easy-to-use learning guide that's been recommended by Bible teachers and pastors for over thirty years, and now, I include myself in that group. I believe there is good reason to get this book. For example, the new believer in Christ can learn the basics of Christianity while at the same time, the veteran Christian grow in their understanding, so it's useful for anyone wants to know the Bible better. I believe Dr. Anders wrote this book so that the average believer can grow in the grace and in the knowledge of our Lord and His Word, and not have to have a seminary degree to do it. There are quizzes to take at the end of each lesson to assess whether they've understood the major points. The maps, charts, and short fill-n-the-blank questionnaires at the end of each lesson are there to ensure the reader understood the lesson.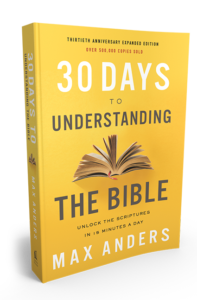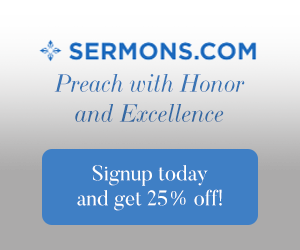 Easy to Do
Fifteen minutes a day is an extremely small amount of time to invest in studying God's Word, especially compared to the return you see on that fifteen minute investment, and fifteen minutes is doable for all of us. We might say we don't have the time but really, we must make the time. For example, we can set our alarms a bit earlier or plan to do this study before bed. Either way, it'll be the best fifteen minutes you'll spend in the day, and the most productive.
Easy to Understand
Dr. Max Anders' book, 30 Days to Understanding the Bible, is so easy to read that even a new believer in Christ can understand it, but it also stretches the understanding of the older, more experienced Christian. It helps the reader remember certain important doctrines in the Bible, and it gives the reader a valuable view of the overarching structure and themes of the Bible. It's sort of a "fly over" of the Bible, but with multiple "landings," so the reader learns more about the Bible with each lesson, making it the perfect book for pastors and teachers. Who doesn't want to know more about the greatest book ever written (the Bible), and this book unlocks the Scriptures in just fifteen minutes a day. Tell me, what better use of fifteen minutes could there possibly be? It'll be the greatest investment of time you'll make today.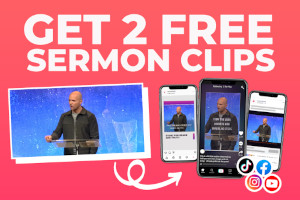 Easy to Read
Do you want to learn the Bible better but don't have a lot of time to do it? Do you need a quick refresher on what you already know? If so, 30 Days to Understanding the Bible is for you. With only fifteen minutes a day, for the next thirty days, you'll learn the Bible's key characters, important events, and essential doctrines. By using a proven study method, Dr. Anders breaks down the Bible in such a marvelous way that you'll grasp biblical texts better than you ever did, and even if you have difficulty reading…it's no problem because this book is an easy read. One thing though; it's hard to put down.
Easy to Finish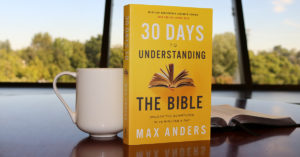 Even though the book is over 400 pages, it's an easy read in thirty days, but if you're like me, when you're finished, you might find yourself reading it again. Part of the reason is the graphics, the structure of the Bible, the charts, maps, timelines, and self-tests that all give me a broader understanding of the layout of the Bible, but also of the history of redemption as found in Scripture. It may take you longer than fifteen minutes or it may take you less, but you will walk away knowing more about the Bible than you did before, and it's so easy to finish the book that you'll wonder how the time went by so fast.
Easy Investment
If you know a pastor, a Sunday school teacher, a Christian friend or family member, then you've already got the perfect gift…its 30 Days to Understanding the Bible by Dr. Max Anders. It'll be a gift that keeps on giving and giving. The Holy Spirit revealed Christ to us. He revealed our need for repentance, and He pointed us to the only way in which we can be saved, and that is Jesus Christ (Acts 4:12), but 30 Days to Understanding the Bible can be a useful tool in broadening your knowledge of the Word of God. And don't miss the fact that the title of the book is also the outcome: "30 Days to Understanding the Bible." If you want to understand the Scriptures better, this book will help you do just that.
Easy to Buy
This 400 page book is amazingly priced for just over $13 in most places, and what's even more amazing are the dozens of positive reviews from the readers that show how much they've increased their biblical understanding. The structure of the book is such that even new believers won't get lost but more experience believers won't get bored. The thirtieth edition of 30 Days to Understanding the Bible, takes only 15 minutes a day, but the time invested is multiplied in new understanding. Dr. Anders is a graduate of Dallas Theological Seminary and now a Christian Life Mentor, and this book will mentor you in many ways. The book also has a 13-week plan that provides teachers with innovative ways and creative tools to help them become even better teachers of the Bible. Fifteen minutes a day and less than fifteen dollars is such a small amount for such a huge return.
Conclusion
If you're willing and able to spend about fifteen minutes a day, you can learn the Bible's key people, events, and doctrines, and learn how to get more out of God's Word. This simple-to-use, straightforward guide has been recommended by Bible teachers and pastors for thirty years now, and now it's available in an expanded thirtieth anniversary edition with the most requested topics from the original edition, restored and updated for today's readers. Being a pastor myself, I find it a useful tool to help deepen my understanding of the Bible and learn how to teach the Word of God better. I sincerely believe that if you buy this book and invest a small amount of your time every day (15 minutes), you'll be a better teacher, and if you're not a teacher, maybe you'll be able to teach the Bible, particularly if God has called you to this. If not, you'll still know the Bible better, and that'll equip you to be a better witness for Christ.
About the Author
Dr. Max Anders is the author of over 25 books including 30 Days to Understanding the Bible. He has taught on the college and seminary level and is a veteran pastor. Max was also one of the original team members with Walk Thru the Bible Ministries. He provides resources and discipleship strategies at MaxAnders.com to help people grow spiritually. Dr. Anders is also the creator and general editor of the Holman Bible Commentary. Here's more about this book.
Anders, Max. 30 Days To Understand the Bible Better. (Nashville, TN: Thomas Nelson Publishing, 2018).
Here is some related reading for you: How To Create Your Own Bible Study for a Group
Resource – Scripture quotations are from The Holy Bible, English Standard Version® (ESV®), Crossway Bibles. (2007). ESV: Study Bible: English standard version. Wheaton, Ill: Crossway Bibles. Used by permission. All rights reserved.