The term "redemption" was mostly used in the 1800's and over time the use of this term has decreased. One dictionary definition of redemption is:
"the action of regaining or gaining possession of something in exchange for payment, or clearing a debt." (google.com)
In Christianity we possess redemption at the moment that we believe in what Jesus did on the cross at Calvary to pay for our sins. He gave His life in exchange (or as payment) for the debt that every person owes as a wage for sin. (Romans 6:23)
In the spring of the year many Christians celebrate Easter or Resurrection Sunday. It is at this time that we mostly reflect upon redemption. Though truthfully we ought to be thinking about our redemption more often and sharing the good news of the gospel so others may be redeemed as well. Take a look at this collection of Christian quotes about redemption and then think on these things.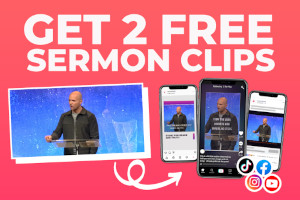 "Non-Christians seem to think that the Incarnation implies some particular merit or excellence in humanity. But of course it implies just the reverse: a particular demerit and depravity. No creature that deserved Redemption would need to be redeemed. They that are whole need not the physician. Christ died for men precisely because men are not worth dying for; to make them worth it." ~ C.S. Lewis, Author
Living Out and Life in Redemption
Think amid your plans and anticipations of future gaiety what the redemption of your soul has cost, and how the dying Saviour would wish you to act. His wounds plead that you will live for better things. ~ Albert Barnes, American Theologian
A Christian is one who recognizes Jesus as the Christ, the Son of the living God, as God manifested in the flesh, loving us and dying for our redemption; and who is so affected by a sense of the love of this incarnate God as to be constrained to make the will of Christ the rule of his obedience, and the glory of Christ the great end for which He lives. ~ Charles Hodge, Seminary Principal
Christ's yesterday was the accomplishment of redemption,–His tomorrow is the having His Church with Himself in glory. But He is a living Christ for today. ~ G. B. Wigram, English Biblical Scholar & Thelogian
By Christ's purchasing redemption, two things are intended: his satisfaction and his merit; the one pays our debt, and so satisfies; the other procures our title, and so merits. The satisfaction of Christ is to free us from misery; the merit of Christ is to purchase happiness for us. ~ Jonathan Edwards, Colonial American Preacher & Missionary
Have you ever realized that you can give things to God that are of value to Him? Or are you just sitting around daydreaming about the greatness of His redemption, while neglecting all the things you could be doing for Him? I'm not referring to works which could be regarded as divine and miraculous, but ordinary, simple human things – things which would be evidence to God that you are totally surrendered to Him. ~ Oswald Chambers, Bible College Teacher & WWI Chaplain
Dying With or Without Redemption
We are convinced that all of our race who die in infancy partake in the redemption wrought out by our Lord Jesus. Whatever some may think, we believe that the whole spirit and tone of the Word of God, as well as the nature of God Himself, lead us to believe that all who leave this world as babes are saved.~ Charles Spurgeon, English Baptist Pastor
I am crucified with Christ: nevertheless I live; yet not I, but Christ liveth in me: and the life which I now live in the flesh I live by the faith of the Son of God, who loved me, and gave himself for me. ~ The Holy Bible, Galatians 2:20
Christ is the Son of God who died for the redemption of sinners and resurrected after three days. This is the greatest truth in the universe. I die because of my belief in Christ. ~ Watchman Nee, 20th Century Chinese Christian Author
For by him [Christ] were all things created, that are in heaven, and that are in earth, visible and invisible, whether they be thrones, or dominions, or principalities, or powers: all things were created by him, and for him: And he is before all things, and by him all things consist. And he is the head of the body, the church: who is the beginning, the firstborn from the dead; that in all things he might have the preeminence. For it pleased the Father that in him should all fulness dwell; And, having made peace through the blood of his cross, by him to reconcile all things unto himself; by him, I say, whether they be things in earth, or things in heaven. The Holy Bible, Colossians 1:16-20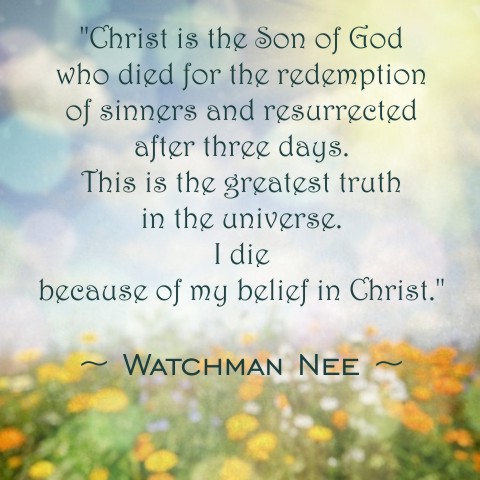 Singing of Redemption and the Redeemer
I am redeemed You set me free. So I'll shake off these heavy chains and wipe away ev'ry stain. Now ('Cause) I'm not who I used to be (I am redeemed) ~ "Redeemed" Benji Cowart and Michael Weaver
Redeemed how I love to proclaim it. Redeemed by the blood of the Lamb. Redeemed thru His infinite mercy His child and forever I am. ~ "Redeemed" Fanny Crosby and William James Kirkpatrick
Now I know my Redeemer lives. I know my Redeemer lives. Let all creation testify let this life within me cry. I know my Redeemer. He lives to take away my shame. And He lives forever I'll tproclaim That the payment for my sin was the precious life He gave. But now He's alive and there's an empty grave ~ "Redeemer" Nicole Mullen
On that bright and cloudless morning when the dead in Christ shall rise. And the glory of His resurrection share. When His chosen ones shall gather o their home beyond the skies. And the roll is called up yonder I'll be there. "When the Roll is Called up Yonder", James Milton Black
Now I've a hope that will surely endure after the passing of time. I have a future in heaven for sure; there in those mansions sublime. And it's because of that wonderful day when at the cross I believed. Riches eternal and blessings supernal from His precious hand I received, "Heaven Came Down", John W. Peterson
Redemption is the Remedy
We desperately need to understand something of the magnitude of sin, of evil, and of gross wickedness in this world if we are to appreciate our redemption. God's love, grace, and mercy shine all the brighter against the awful reality of evil. Indeed, the very existence of evil is a powerful proof of God's existence and holiness. ~ Dave Hunt, Christian Apologist
We are too much haunted by ourselves, projecting the central shadow of self on everything around us. And then comes the Gospel to rescue us from this selfishness. Redemption is this, to forget self in God. ~ Frederick W. Robertson, 19th Century English Preacher
The work of redemption was accomplished by Christ in His death on the cross and has in view the payment of the price demanded by a holy God for the deliverance of the believer from the bondage and burden of sin. Inredemption the sinner is set free from his condemnation and slavery to sin. ~ John F. Walvoord, Theologian
Here is why all the central truths of the gospel focus on the cross: It reveals how heinous our sin is. It shows the intensity of God's wrath against sin. It reveals the great love of God in paying such a high price for redemption. But it also serves as a fitting metaphor for the cost of following Christ. Jesus himself spoke repeatedly of the cross in those terms. ~ John MacArthur, American Preacher
If Jesus Christ was who He claimed to be, and He did die on a cross at a point of time in history, then, for all history past and all history future it is relevant because that is the very focal point for forgiveness and redemption. ~ Josh McDowell, Christian Apologist, Evangelist and Writer
Final Thoughts
I am continually finding myself taking my redemption for granted. I say this because I don't spend nearly enough time glorifying God for all He has done for me. I pray that as you reflect upon your redemption that you prayerfully consider what more you can do to show God how much you love Him because He first loved you (1 John 4:19).
More about salvation and redemption: Can a Christian Lose Their Salvation?
Resource – Scripture quotations from The Holy Bible, King James Version