Endurance is something that God blesses us with when we walk with Him. The Bible has much to say about pressing on, enduring, continuing and just plain working in our journey here on earth. We press on, such as one who is in a race. We press toward the finish line and in the end our hard work, when it is done to the glory of God, is rewarded on the other side – Heaven. Heaven itself is not the reward because that is our destination once we have trusted Christ as our personal Savior (John 3:15; John 3:16; John 11:26; Rom 3:22). Rather we press on towards the rewards that we receive in Heaven because of what we did on earth (2 Tim 4:8;1 Cor 9:25-27; James 1:12, Rev 2:10; 1 Pet 5:2-4; 1 Thess 2:19, Dan 12:3). Take a look at these KJV Bible verses about pressing on, enduring and working.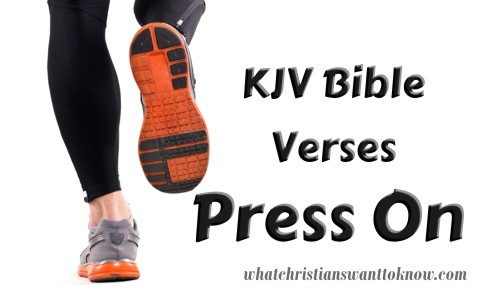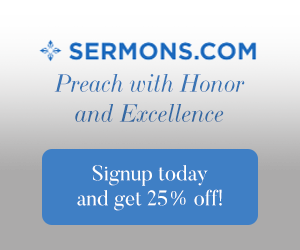 Romans 2:6-8 [God] Who will render to every man according to his deeds: To them who by patient continuance in well doing seek for glory and honour and immortality, eternal life: But unto them that are contentious, and do not obey the truth, but obey unrighteousness, indignation and wrath,
"seek for glory and honour…" Paul is writing to the church at Rome in this letter and he is reminding them that in the end God will give rewards to every man according to what he has done. "Patient continuance" is another way of saying "press on" or endure and we should do it in well-doing. As we wait for our eternal home in Heaven we are encouraged to patiently wait here on earth, but we do not wait with idle hands. We work to the glory and honour of the Lord.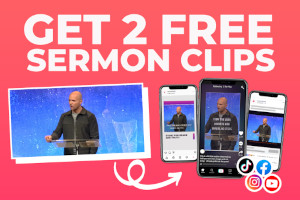 Romans 12:1-2 I beseech you therefore, brethren, by the mercies of God, that ye present your bodies a living sacrifice, holy, acceptable unto God, which is your reasonable service. And be not conformed to this world: but be ye transformed by the renewing of your mind, that ye may prove what is that good, and acceptable, and perfect, will of God.
Again Paul reminds the Roman church that God has given them so much and because of that our life on earth should reflect our gratitude. The "living sacrifice" is what we do to show that we are so very thankful for all that He has done for us. It is an attitude of thankfulness and the least we can do (our reasonable service).
Philippians 2:12-13 Wherefore, my beloved, as ye have always obeyed, not as in my presence only, but now much more in my absence, work out your own salvation with fear and trembling. For it is God which worketh in you both to will and to do of his good pleasure.
Working out our own salvation does not mean to work FOR our salvation. Rather it means to do good works BECAUSE of salvation – as evidence of a grateful and saved soul. Paul wrote this letter to the church at Philippi from prison. He is encouraging them by reminding them that he witnessed their obedience when he was with them and is exhorting them to continue to do the same even though he is no longer there. It is because of the Holy Spirit's power within every believer that we are able to work to do His good pleasure.
Philippians 3:12-15 Not as though I had already attained, either were already perfect: but I follow after, if that I may apprehend that for which also I am apprehended of Christ Jesus. Brethren, I count not myself to have apprehended: but this one thing I do, forgetting those things which are behind, and reaching forth unto those things which are before, I press toward the mark for the prize of the high calling of God in Christ Jesus. Let us therefore, as many as be perfect, be thus minded: and if in any thing ye be otherwise minded, God shall reveal even this unto you.
Continuing in his letter to the church at Philippi Paul encourages the believers to "press toward the mark" which is ahead and not to look back. With the cross before us and the world behind us we run this race to the finish. As we run this race we should always rely upon God to reveal our attitudes and allow Him to correct them when we are straying off course.
Ephesians 6:16-17 Above all, taking the shield of faith, wherewith ye shall be able to quench all the fiery darts of the wicked. And take the helmet of salvation, and the sword of the Spirit, which is the word of God:
In this letter, Paul reminds the believers that they have weapons for the warfare against Satan. Three things he mentions here: The shield of faith, the helmet of salvation and the sword of the Spirit (Word of God). May we always remember to use these weapons and thank God daily for providing them.
Colossians 4:2-6 Continue in prayer, and watch in the same with thanksgiving; Withal praying also for us, that God would open unto us a door of utterance, to speak the mystery of Christ, for which I am also in bonds: That I may make it manifest, as I ought to speak. Walk in wisdom toward them that are without, redeeming the time. Let your speech be alway with grace, seasoned with salt, that ye may know how ye ought to answer every man.
Again, we are never encouraged to wait for Heaven idly. Instead as Paul reminds the Colossians in this epistle, we should be continuing in prayer. That prayer is in all thankfulness and in anticipation that God would give us folks with which we might share the gospel. And when we do have such opportunities to share that we might not waste any time in getting the word out gracefully and wisely.
Hebrews 12:1-2 Wherefore seeing we also are compassed about with so great a cloud of witnesses, let us lay aside every weight, and the sin which doth so easily beset us, and let us run with patience the race that is set before us, Looking unto Jesus the author and finisher of our faith; who for the joy that was set before him endured the cross, despising the shame, and is set down at the right hand of the throne of God.
Jesus joyfully endured the cross for us. Have you ever really considered that? So then, what should our attitude be as we "run with patience the race that is set before us"? We have a perfect example to follow and He is sitting at the right hand of God encouraging us to "press on" and never give up. Keep our eyes on the prize, the ultimate prize which is Jesus. When you turn your eyes to Him the cares of this world become dim. I love how it is sung in this great hymn of faith "Turn Your Eyes Upon Jesus"
"Turn your eyes upon Jesus
Look full in His wonderful Face
And the things of earth
Will grow strangely dim
In the light of His Glory and Grace"
Final Thoughts
As you press on toward Heaven I pray that you are encouraged by these few KJV Bible passages. Do you know of any others that we can include? Share them in the comments below.
Related verses: Bible Verses About Perseverance
Resource – Scripture quotations are from The Holy Bible, King James Version