No doubt at some time in your life you have needed to be ready for something. It started out as a young child — get ready for school, get ready for supper, get ready for bed, right? And it continued into your teens as you were perhaps planning a getaway for which you needed to get ready to go. You did things like: packed a suitcase or duffel bag, planned what snacks you needed to take along, set the time of departure and even let your parents know when to expect you home. The fact of the matter is, even as an adult, sometimes we need to make ready for life events. And sometimes things happen, whether or not we are ready.
In the Bible we can see that we need to be ready for service to the Lord. We are also told of things to come for which we should be ready. Let's take a look.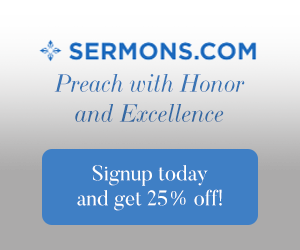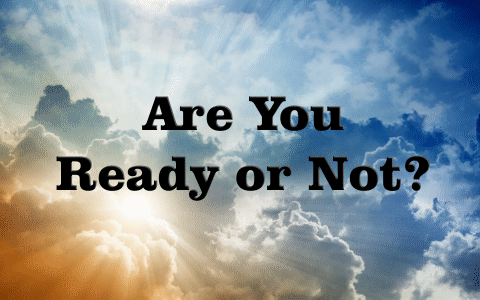 Things to Do to Be Ready for Service
2 Corinthians 8:19 And not that only, but who was also chosen of the churches to travel with us with this grace, which is administered by us to the glory of the same Lord, and declaration of your ready mind: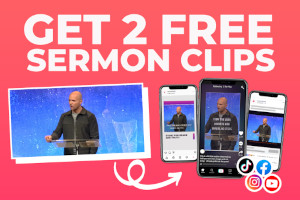 2 Corinthians 9:2 For I know the forwardness of your mind, for which I boast of you to them of Macedonia, that Achaia was ready a year ago; and your zeal hath provoked very many.
2 Timothy 2:21 If a man therefore purge himself from these, he shall be a vessel unto honour, sanctified, and meet for the master's use, and prepared unto every good work.
Titus 3:1–2 Put them in mind to be subject to principalities and powers, to obey magistrates, to be ready to every good work, To speak evil of no man, to be no brawlers, but gentle, shewing all meekness unto all men.
1 Peter 3:15–16 But sanctify the Lord God in your hearts: and be ready always to give an answer to every man that asketh you a reason of the hope that is in you with meekness and fear: Having a good conscience; that, whereas they speak evil of you, as of evildoers, they may be ashamed that falsely accuse your good conversation in Christ.
1 Peter 5:2–3 Feed the flock of God which is among you, taking the oversight thereof, not by constraint, but willingly; not for filthy lucre, but of a ready mind; Neither as being lords over God's heritage, but being ensamples to the flock.
Warned to be Ready for Sudden Events to Come
Ecclesiastes 9:12 For man also knoweth not his time: as the fishes that are taken in an evil net, and as the birds that are caught in the snare; so are the sons of men snared in an evil time, when it falleth suddenly upon them.
Malachi 3:1 Behold, I will send my messenger, and he shall prepare the way before me: And the Lord, whom ye seek, shall suddenly come to his temple, Even the messenger of the covenant, whom ye delight in: Behold, he shall come, saith the LORD of hosts.
Matthew 24:27 For as the lightning cometh out of the east, and shineth even unto the west; so shall also the coming of the Son of man be.
Mark 13:35–36 Watch ye therefore: for ye know not when the master of the house cometh, at even, or at midnight, or at the cockcrowing, or in the morning: Lest coming suddenly he find you sleeping.
Luke 12:35–36 Let your loins be girded about, and your lights burning; And ye yourselves like unto men that wait for their lord, when he will return from the wedding; that when he cometh and knocketh, they may open unto him immediately.
1 Thessalonians 5:6–9 Therefore let us not sleep, as do others; but let us watch and be sober. For they that sleep sleep in the night; and they that be drunken are drunken in the night. But let us, who are of the day, be sober, putting on the breastplate of faith and love; and for an helmet, the hope of salvation. For God hath not appointed us to wrath, but to obtain salvation by our Lord Jesus Christ,
Revelation 19:7 Let us be glad and rejoice, and give honour to him: for the marriage of the Lamb is come, and his wife hath made herself ready.
Ready or Not Death & Judgment Will Come
Matthew 24:38–39 For as in the days that were before the flood they were eating and drinking, marrying and giving in marriage, until the day that Noe entered into the ark, And knew not until the flood came, and took them all away; so shall also the coming of the Son of man be.
Matthew 24:48–51 But and if that evil servant shall say in his heart, My lord delayeth his coming; And shall begin to smite his fellowservants, and to eat and drink with the drunken; The lord of that servant shall come in a day when he looketh not for him, and in an hour that he is not aware of, And shall cut him asunder, and appoint him his portion with the hypocrites: there shall be weeping and gnashing of teeth.
Matthew 25:6–9 And at midnight there was a cry made, Behold, the bridegroom cometh; go ye out to meet him. Then all those virgins arose, and trimmed their lamps. And the foolish said unto the wise, Give us of your oil; for our lamps are gone out. But the wise answered, saying, Not so; lest there be not enough for us and you: but go ye rather to them that sell, and buy for yourselves.
Luke 21:34–35 And take heed to yourselves, lest at any time your hearts be overcharged with surfeiting, and drunkenness, and cares of this life, and so that day come upon you unawares. For as a snare shall it come on all them that dwell on the face of the whole earth.
Final Thoughts
As Christians we should be ready for the Lord to return at any time. Since His return is eminent, we need to share His good news with as many people as possible. Because the only thing we can take with us when we leave earth is other believers! Ready or not, He is coming!
More to read: How to Become a Christian Missionary
Resource – Scripture quotations are from The Holy Bible, King James Version.